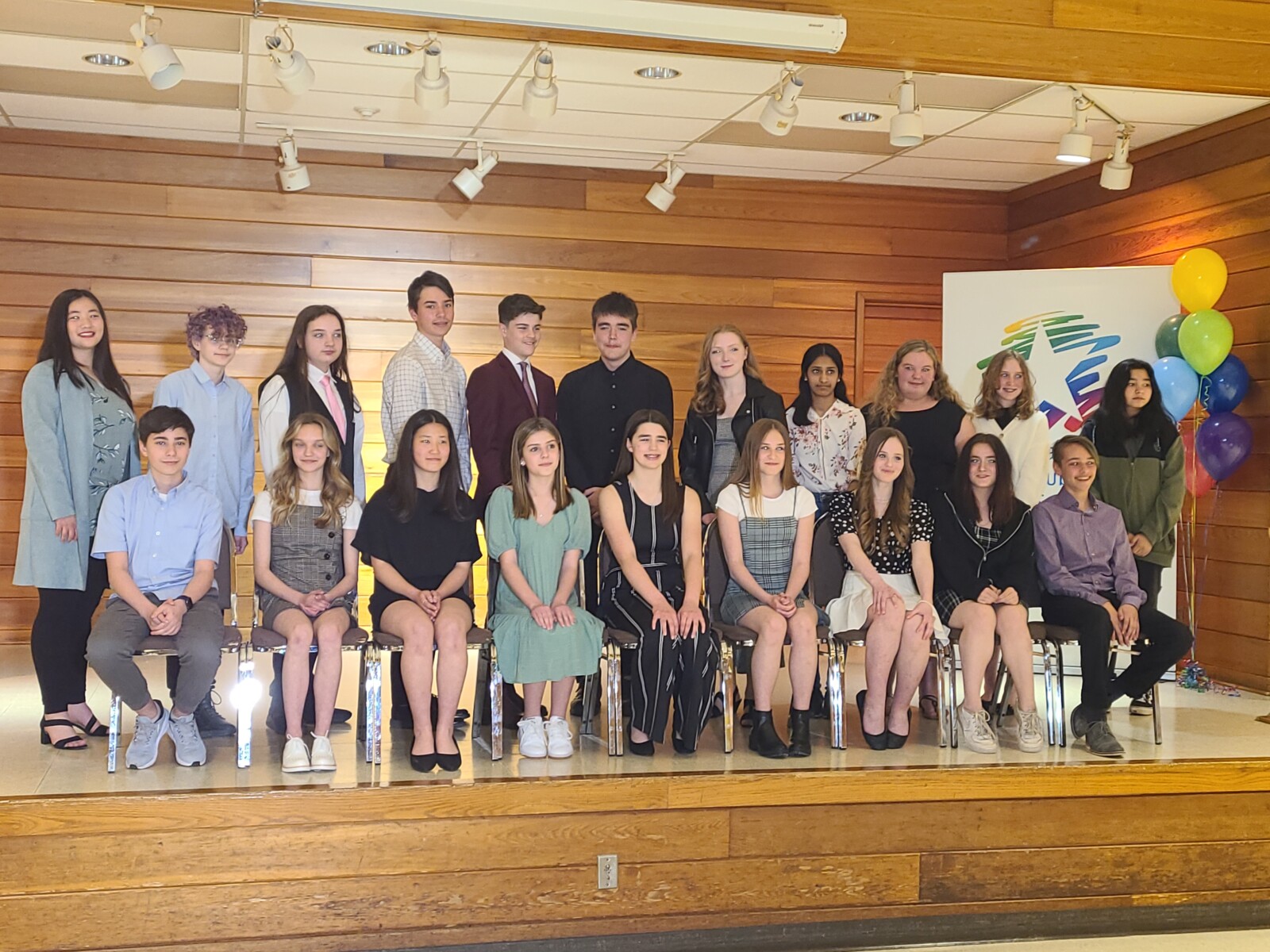 2022 Grade 8 Awards of Excellence
May 20, 2022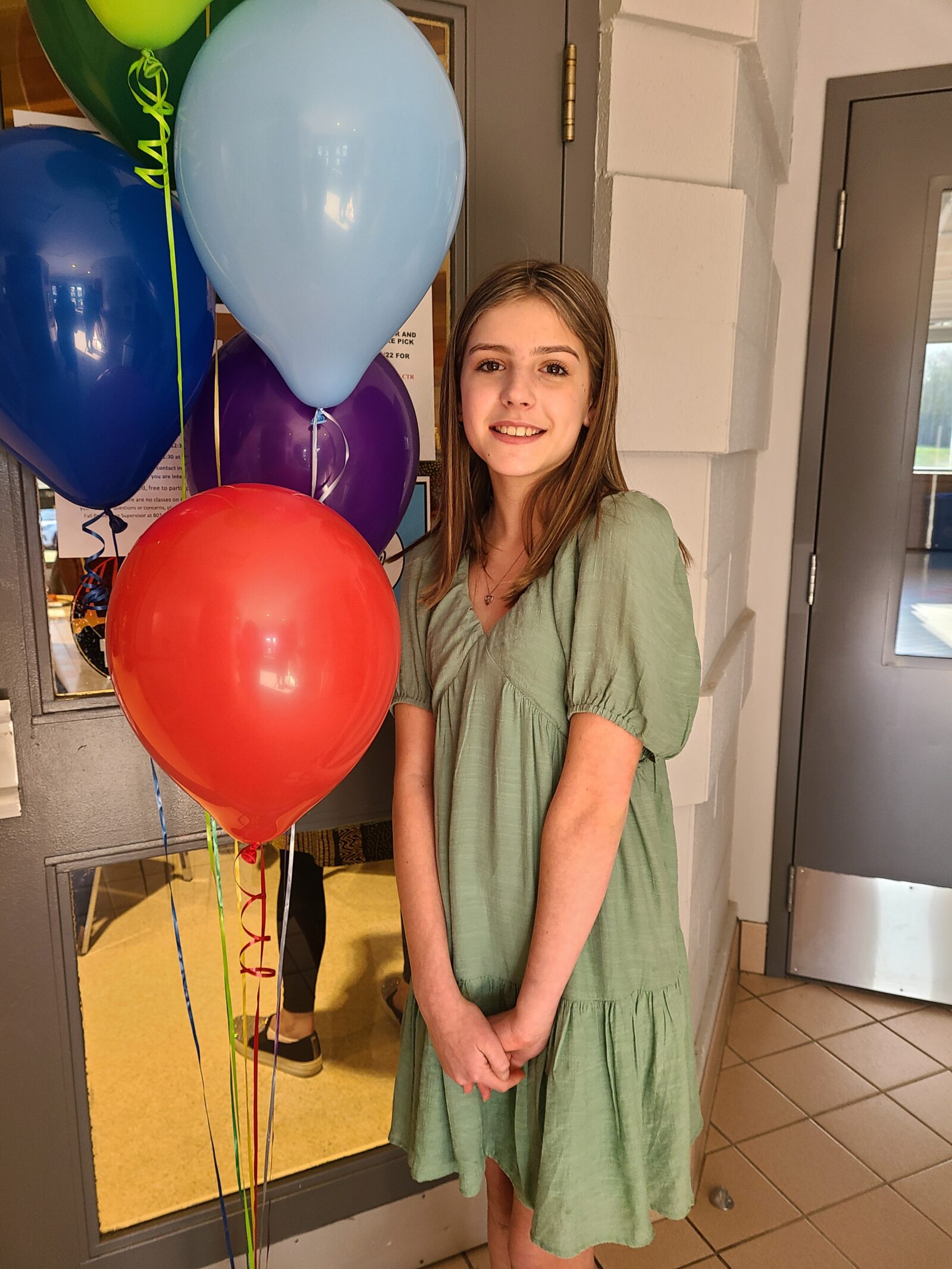 On the evening of May 19th, 22 Grade 8 students with Lakehead Public Schools were awarded the Grade 8 Award of Excellence at a banquet-style event hosted by the Board. One Grade 8 student from each school received the honour of accepting the award in front of their parents, guardians, Grade 8 teachers, and school administrators.
The evening was led by Lakehead District School Board Student Trustee Mehar Mago and welcomed several dignitaries to the podium, including Acting Mayor Rebecca Johnson, Chair of Lakehead District School Board Ellen Chambers, Chair of Lakehead Public Schools Foundation Jordan Lester, and Director of Education Ian MacRae. Principal of Ecole Gron Morgan Public School Erin Aylward and teacher and First Vice President of Lakehead Elementary Teachers of Ontario Dave Paddington had the honour of presenting the awards.
Sofia Martins, winner of the Grade 8 Award of Excellence for Valley Central Public School, said she has had her eye on this award since Grade 5 and attributes this achievement to being authentic and dedicated. "I think being myself really helped. I always tried to achieve higher standards," said Sofia. The young award winner also expressed her ambitions for her upcoming secondary school career saying she plans to participate in multiple sports teams at Westgate CVI including hockey and volleyball.
The Grade 8 Award of Excellence recognizes individuals who have achieved high standards of academic excellence as well as demonstrated leadership within the school and community. Through their daily actions within their school and community, the students truly personify the Lakehead Public Schools values of: Inclusion, Respect, Integrity, Empathy, and Responsibility.
Chair of Lakehead District School Board Ellen Chambers addressed the student winners in a keynote speech congratulating them on their success and acknowledged that their accomplishments will follow them into secondary school and beyond. "I commend each and every one of you for this very special and well-deserved achievement and wish you continued success in your next adventure," said Chambers.
The winners of the 2022 Grade 8 Award of Excellence are:
Connor Williamson – Algonquin Avenue
Ashton Parr – Armstrong
Rachael Mann – C.D. Howe
Julian Tonkens – Claude E. Garton
Elena Weber – Crestview
Ramneek Hayer – Ecole Elsie MacGill
Taylor Smallwood – Ecole Gron Morgan
Halle Storey – Five Mile
Avery Sproule – Gorham & Ware
Emily Kozak – Kakabeka Falls
Yeju Cho – Kingsway Park
Brayden Sylvestre – Lakehead Virtual Elementary
Jax Baxter – McKellar Park Central
Emily Harris – Nor'wester View
Marley Baker – Ogden
Marley Martell – St. James
Zoey Bell-Napash – Sherbrooke
Sofia Martins – Valley Central
Brady Fontaine – Vance Chapman
Matthew Smelow – Westmount
Izzy Silvaggio – Whitefish Valley
Carter Pilot – Woodcrest
The Grade 8 Awards of Excellence are presented by the Lakehead Public Schools Foundation in partnership with Lakehead Elementary Teachers of Ontario, Ontario Principals' Council, and Lakehead Public Schools.