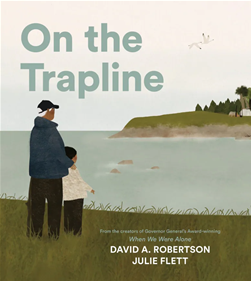 Award-Winning Indigenous Author Recounts Adventure and Land-Based Living for Kingsway Park Public School
Jan 26, 2022
Hosting renown award-winning authors for Family Literacy Week is a tradition Kingsway Park Public School loves. This year, Indigenous author and acclaimed public speaker David A. Robertson met the school virtually to discuss his newest picture book, On the Trapline, themed with observing the lessons of ancestors. Eagerly awaiting the special day, the school read On the Trapline and honoured the theme by having a bonfire and experiencing a sharing circle.
David A. Roberson is Cree and beautifully incorporates his heritage and knowledge of land-based living in his writing. On the Trapline was inspired by the author's real-life adventure of visiting his father's trapline in remote northern Manitoba in 2018. The woodland at the trapline, surrounded by eagles, deer, and moose, was his father's authentic home until the age of 10. His father's days consisted of building lean-tos, mastering trapping, and living off the land. Food was stored underground, nights were spent on spruce boughs, and the minimalist approach was taught; only take what you need and use everything you collect from the land. Respecting the land has shaped the author into who he is today and is a central influence in many of his books.  
During his presentation, David A. Robertson shared the instant he discovered he wanted to be a writer and indicated that a teacher played a lifechanging part in the moment. The assignment was to write a poem, but our dual-winning Governor General's Award recipient, at the age of eight, dove into the task and produced 12 clever poems on the spot. His teacher, fascinated by his aptitude, gifted him a printed booklet of his work the very same day. The booklet, which the author still possesses, holds poems of cheeseburgers, milkshakes, and hockey – all his childhood favourites.
There is something to be said about teachers who inspire, as coincidentally, Kingsway Park Public School continuously encourages its very own budding authors – Grade 4 students Jack Hewitt and Anders Covas, in particular. The pair is famous school-wide for their graphic novels! Jack writes and illustrates, and Anders – coined "The Idea Man" – conceptualizes the imaginative content. The school, together with Jack and Anders' parents, celebrate their efforts by printing coloured copies of the graphic novels for the class.
At Lakehead Public Schools, we love discovering new talents. Students are encouraged to share their special skills, accomplishments, or unique expertise with their class!