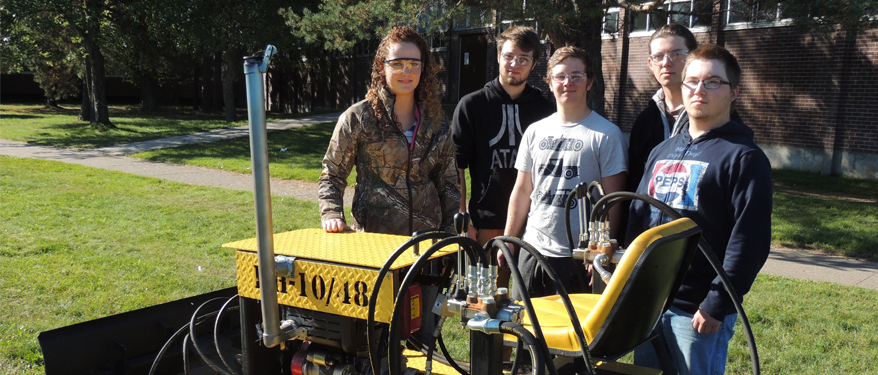 Bulldozing their Way to Success!
Sep 29, 2015
Students in the Manufacturing Specialist High Skills Major Program at Sir Winston Churchill Collegiate and Vocational Institute are proud to celebrate the completion of a major project – a bulldozer built from the frame up. The building of the fully functional bulldozer took a complete school year and provided the participating students with a unique learning experience.
"This was true experiential learning for the students involved in the building of the bulldozer," says Michael Lemieux, Manufacturing Teacher at Sir Winston Churchill Collegiate and Vocational Institute. "They had to build it systematically with prints that we purchased and some pre-manufactured parts and exposed the students to many aspects of the trades."
The construction of the bulldozer included "real world" experiences of welding, machining and print reading. The Manufacturing Specialist High Skills Major Program also experienced another skill that they will need to develop if they plan on pursuing a trade – extensive problem solving skills.
"The prints were not of the best quality and this did provide an excellent opportunity for students to work together through a problem to develop a solution," says Lemieux. "This is something that they will have to face on the job if they pursue a career in the trades."
The Manufacturing Specialist High Skills Major programs provide students interested in a career in the Manufacturing sector (metal worker, welder, millwright, engineer etc) with the requirements for the Ontario Secondary School Diploma (OSSD) while developing essential manufacturing related skills and work habits. Students learn sector-specific skills and knowledge in a hands-on, career related learning environment with others who have the same goals and career expectations.
Students must achieve a "bundle" of Grade 11 and 12 credits for a work, apprenticeship, college or university pathway including:
4 Manufacturing credits
1 English credit
1 Math credit
1 Science credit
2 Cooperative Education credits
In addition, students must achieve up to 7 sector recognized certifications and training including:
CPR
Standard First Aid
Health and SafetyWHIMIS
Optional (fall protection, lockout tagging,etc).
"The Specialist High Skills Major program is a perfect example of the innovative, current and comprehensive programming offered at Lakehead Public Schools," says Jeremy Noel, Technology Resource Teacher, Lakehead Public Schools. "This type of programming engages our students in practical and meaningful ways, providing opportunities for learning and success in all the pathways for all students."
Students who successfully complete the elements of the program receive the Specialist High Skills Major designation on their OSSD diploma. For more information about the 13 Specialist High Skills Major Programs offered at Lakehead Public Schools, please call 625-5167.