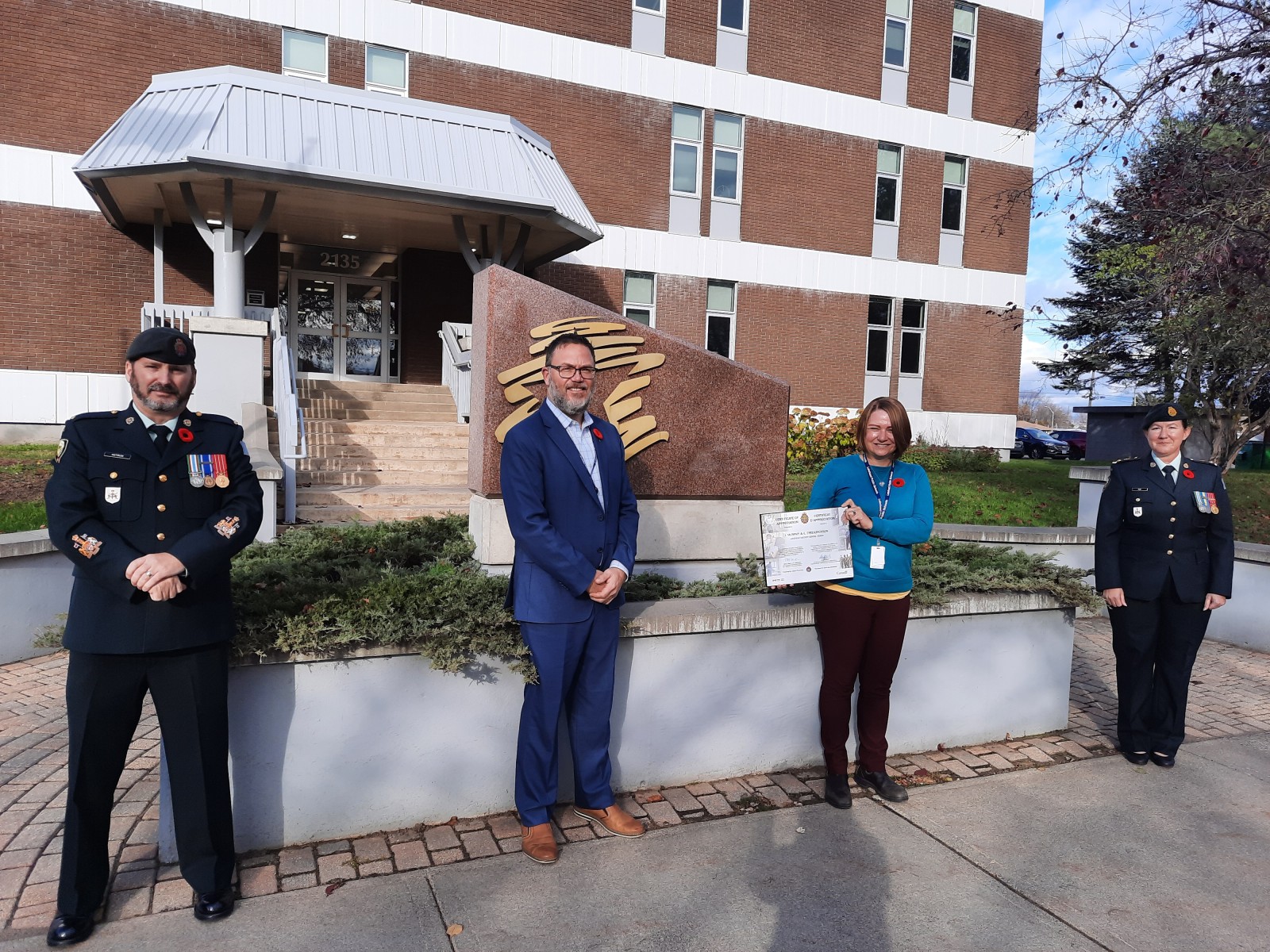 Canadian Armed Forces Present Board & Staff with Award
Nov 1, 2021
Today, Lakehead Public Schools and two staff members were presented with the Canadian Forces Liaison Council Employer Recognition Award.
Lieutenant Colonel Darla Oja, Commanding Officer of 38 Service Battalion with the Canadian Armed Forces, presented the award on behalf of the Canadian Forces Liaison Council to the school Board and employees Eric Fredrickson, Principal of Program Department and Early Years, and Jessica Murphy, Human Resources Officer.
The award was presented in recognition of the school Board's ongoing support of 38 Service Battalion's Regimental Sergeant Major, Chief Warrant Officer (CWO) Andrew Hotrum. CWO Hotrum is employed by Lakehead Public Schools and nominated the Board for this award for demonstrating flexibility with respect to granting temporary leaves to serve in the military in several roles. With the temporary leaves of absence from his school Board position, CWO Hotrum was able to further his military training and participate in the Canadian Armed Forces' response to the pandemic and vaccine rollout plan. Most recently, CWO Hotrum was the local liaison and coordinator for military response and support of vaccinations being delivered to remote Northern Ontario communities.
CWO Hotrum chose to nominate the Lakehead Public Schools for the Canadian Forces Liaison Employer Recognition Award to show his appreciation for the continued support. "I truly believe that if it was not for the support of administration and Lakehead Public Schools, I would not have had the opportunity to achieve the levels of success that I have attained in my career with the Canadian Armed Forces," said CWO Hotrum.
Eric Fredrickson, employee with Lakehead Public Schools for nearly 20 years and esteemed principal and leader for 11 years, is pleased to co-accept this award from the Canadian Forces Liaison Council alongside Lakehead Public Schools. "Mr. Andrew Hotrum is an outstanding staff member with a history of dedicated and effective student support in several of our schools as a Student Support Professional. I am extremely proud of Mr. Hotrum's ongoing service to our country, and it's been an honour to support him in that service over the years. He is a true role model for students, staff, and our community both in his role with Lakehead Public Schools and with the Canadian Armed Forces," said Fredrickson.
Lakehead Public Schools encourages students and staff members to follow inspiration and always strive to be successful lifelong learners.