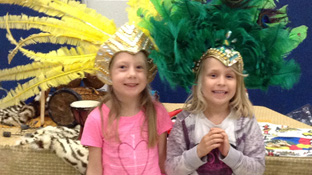 Crestview Multicultural Day!
May 15, 2015
Crestview Public School was pleased to host a Multicultural Day on Friday, May 15. Guests representing the countries of Pakistan, Africa, Caribbean, Holland, and Italy were in attendance and information booths were set up for students to visit in the gym to learn about different cultures.
"It is extremely important that our students learn about different cultures so that they can develop an appreciation and have a better understanding of various traditions in our community," says Lana Deacon Facilitator at Crestview School Public School.
Participating guests brought pictures, traditional dresses, music, art, and food samples. The guests also spoke in their language throughout the afternoon.