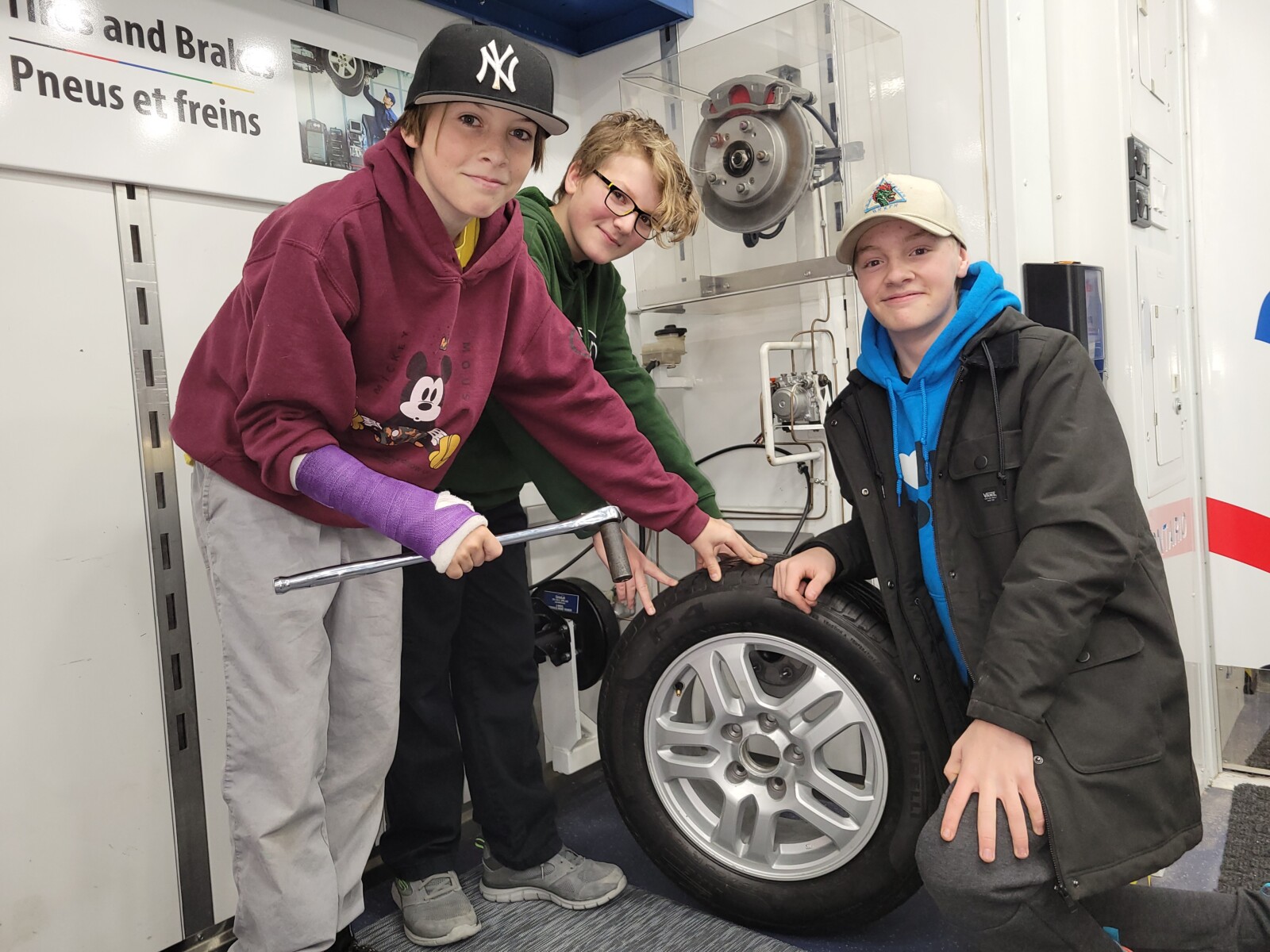 Discovering Careers with the Trades & Tech Truck
Nov 28, 2022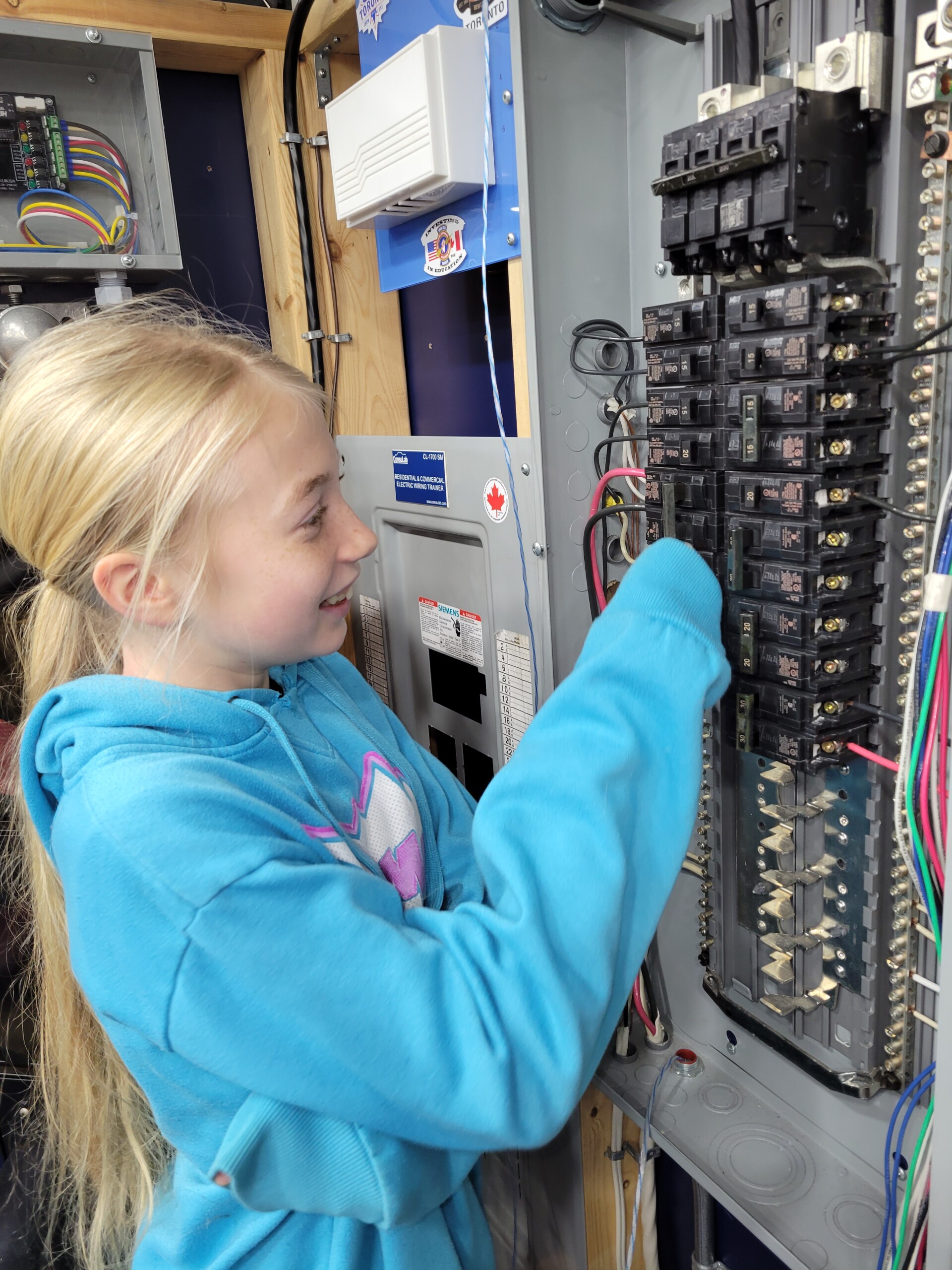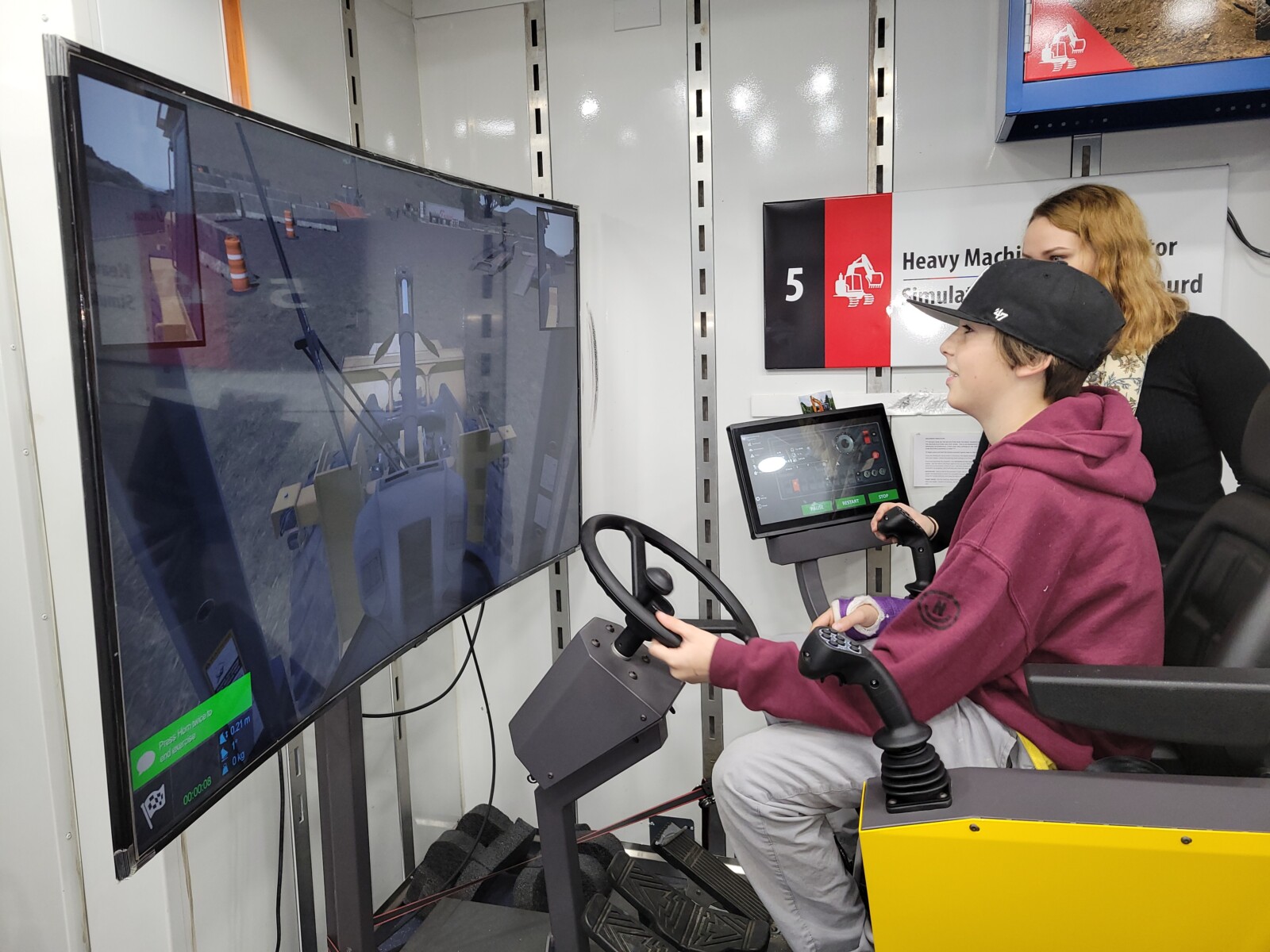 Lakehead Public Schools is constantly pursuing state-of-the-art technology and partnerships to offer students academic excellence and inspiration for the future. Today, our schools brought in an incredibly useful and interesting educational event for intermediate students: a live tour of the Skills Ontario Trades & Tech Truck temporarily stationed at Claude E. Garton Public School.
The Trades & Tech Truck is a 42-foot mobile classroom that offers students the opportunity to try skilled trades careers in a safe and controlled environment. Students learned to change a tire, assemble circuit boards, try auto body painting, and were introduced to the basics of welding. The Trades & Tech Truck also displayed the electrical intricacies of a fire alarm system and offered students realistic heavy equipment training where the young learners chose to virtually operate cranes, wheel loaders, excavators, dozers, graders, and more. Virtual reality simulators allow students to explore the skilled trades and technologies in real-time and in a hands-on way. The Trades & Tech Truck traveled from Waterloo, Ontario, and its accompanying members of Skills Ontario were pleased to provide in-person presentations to the students about the skilled trades. In addition, French Immersion classes were able to receive the presentation in French.
"The Trades & Tech Truck has numerous simulators designed to teach students careers in the skilled trades safely and without any wasted materials, and it grades them on their work so they can see how they've done and where they can improve. The truck includes activities that not only relate to skilled trades but also to life skills, such as the tire changing station," said Hayley Mackay, coordinator with Skills Ontario.
Brianna Babcock, Grade 8 French Immersion student at Claude E. Garton Public School, said today's presentation on the skilled trades inspired her to explore her interest in the culinary arts. "There are a few things that I'm good at like math and hands-on activities like baking, which I like so I might want to do something like that when I'm older. I can definitely see myself having a career as a pastry chef or even working in a restaurant. I know that I want to do skilled trades when I go into high school and college, so it really helped me broaden my horizons," said Brianna.
Exposing students before secondary school to opportunities available in the skilled trades offers a learning pathway not widely known to all. There are 144 skilled trades that are categorized into four areas: Motive Power; Service; Construction; and Industrial. The Motive Power classification comprises various automotive trades, including heavy duty equipment technician, motorcycle technician, automotive painter, and more. The Service classification offers many career choices such as chef, child and youth worker, and hairstylist. The Construction classification includes the greatest number of skilled trades that are available for the Red Seal endorsement, such as plumber, sheet metal worker, and heavy equipment operator. The Industrial classification encompasses the largest number of skilled trades and includes many well-known careers such as welder, tractor-trailer commercial driver, and general machinist.
The Red Seal endorsement is awarded to a tradesperson who has successfully passed the Red Seal examination. The Red Seal, when affixed to the Ontario trade certificate, indicates that the tradesperson has reached the national standard in that trade. The Red Seal endorsement inspires pride in skilled workers and is sought by employers.
Roger Drcar, Specialist High Skills Major coordinator and Ontario Youth Apprenticeship Program coordinator with Lakehead Public Schools, helped arrange for the Trades & Tech Truck to visit Lakehead Public Schools, and appreciates the knowledge imparted by Skills Ontario to the youth of today. "It is important to have the skilled trades promoted to younger people as we may be short a significant number of skilled trade workers in Ontario by 2025. Without those workers we won't be able to build infrastructure and maintain services." Roger Drcar also knows that in the skilled trades, the majority of learning is done through hands-on activities, so offering today's activities is an effective way of providing fun experiential learning. "Learning a skilled trade is 10% schooling and 90% training on the job. The best way to teach students about the skilled trades is to have them actually do the activities," said Drcar.
Today's participating schools were Gorham and Ware Community School, Five Mile Public School, McKenzie Public School, Westmount Public School, and Claude E. Garton Public School.