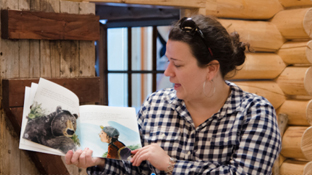 Literacy Week Kick Off at Claude E. Garton
Jan 15, 2020
In anticipation of this month's Family Literacy Week, Indigenous singer/songwriter and author Miranda Currie will visit Gr. 1-3 students at Claude E. Garton School to present her educational show, including story-telling, puppet shows and sing-alongs for students on Thursday, January 16. Miranda, who is originally from Thunder Bay and is currently living in Yellowknife, will be sharing her book "Anna Barters with a Beaver" and doing classroom read-alounds with students.
"We are excited to host Miranda Currie to kick-off our upcoming literacy week celebration" says principal, Shannon Jessiman-MacArthur. "Storytelling, puppet shows and sing-alongs are all important building blocks of literacy".
Schedule of events:
9:00 a.m. to 9:30 a.m. – school assembly for Grade 1 to 3 with Currie hosting/singing
9:30 a.m. to 10:20 a.m. – Currie visits the Gr. 2/3 classroom
10:45 a.m. to 11:35 a.m. – Currie visits the Gr. 1/2 classroom
Family Literacy Day takes place every January 27th to raise awareness about the importance of reading and engaging in other literacy-related activities as a family. Since 1999, thousands of schools, libraries, literacy organizations and other community groups have taken part in the initiative.