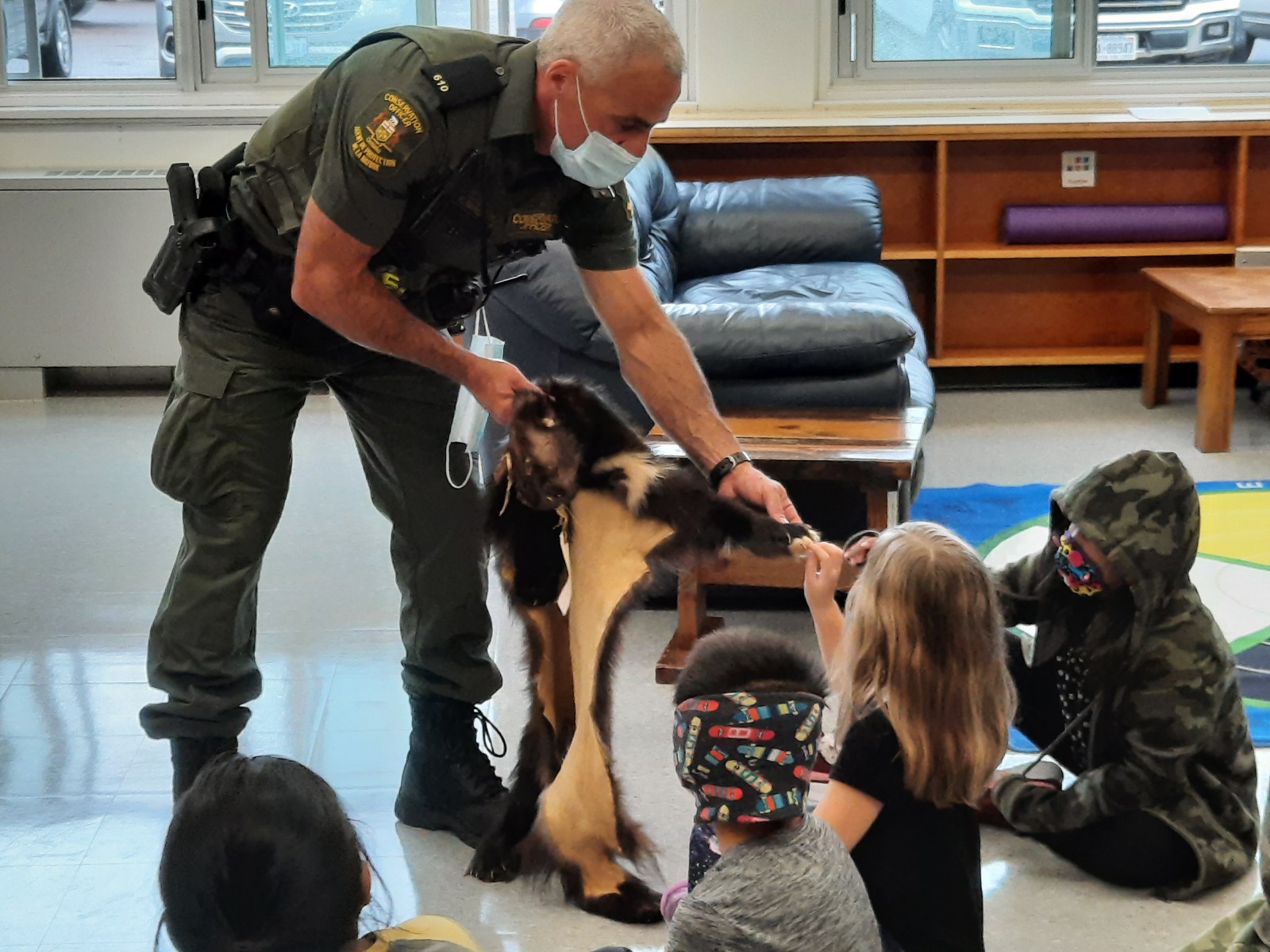 National Hunting, Trapping and Fishing Heritage Day
Sep 16, 2021
On Thursday, September 16th, Algonquin Avenue Public School hosted Thunder Bay Police Service, Ontario Natural Resources and Forestry, and Thunder Bay District Health Unit to honour the Canadian tradition of celebrating National Hunting, Trapping and Fishing Heritage Day.
All morning, the school beamed with excitement while learning to cast fishing lines, learning about pelts, and putting the Ministry of Northern Development, Mines, Natural Resources & Forestry's K9 unit – 6-year-old yellow Labrador Retriever, Rex – to work with a game of hide and seek.
"There are lots of rules and regulations with hunting and fishing, and if we're out talking to kids early on, then it helps them relate to the importance of why we're enforcing the rules. We're a friendly face, we're a member of public service, we're trying to keep people safe, and trying to preserve natural resources for the future, their generation, and future generations to come. It's helpful for the students to see us and put a face to the uniform, and for us to get our message out that we're here to keep people safe," said Andy Heerschap, Conservation Officer and K9 unit handler with the Ministry of Northern Development, Mines, Natural Resources and Forestry.
The Thunder Bay Police Service celebrated with the school by bringing experiential learning with one of the longest-lived sports to the students. The gymnasium held an archery range and offered every willing student a try at the bow."We're here to offer the National Archery in Schools Program, to engage with community and show that police are people you can trust. We're not always about enforcement, we're also about engaging with the community and being involved with the youth, and to teach them that they can trust police officers," said Constable Sean Shorrock of the Thunder Bay Police Service.
"The archery program was very popular with the students this year. Archery promotes focus and strength and can inspire a student's interest in an ancient and highly respected sport. It is known that children learn best through experience, however, as a principal and educator, my experience has taught me that children learn even better through curiosity and interest. Offering students the opportunity to discover new educational activities they love is one of the best parts of holding an event like this. Celebrating this event is meaningful for families in Northwestern Ontario as fishing, hunting, and trapping are popular and common traditions. Students love seeing their school bring in their family's favourite pastime to the classroom," said Darren Lentz, Principal of Algonquin Avenue Public School.
Thunder Bay District Health Unit discussed gardening, healthy eating, and made the traditional Indigenous culture 3 Sisters Soup and biscuits for students and staff to taste.
Lakehead Public Schools strives to provide quality education in a comprehensive approach. Knowledge of Canada's traditions and history is found to be one of the most engaging subjects within the elementary curriculum and, year after year, continues to be vastly enjoyed by students and staff.