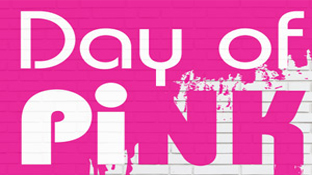 Pink Power!
Apr 7, 2015
We're in the pink! Pink is the colour of choice on Wednesday, April 8 at Lakehead Public Schools. The annual Day of Pink, a nationally recognized event to confront stereotypes, supports diversity within the schools and to foster safe and inclusive environments, will be celebrated by the students in numerous schools.
The day originated in Nova Scotia, where a boy wore a pink shirt to school on his first day of Grade 9 and was harassed because of it. Several students in his school decided to stand up for their fellow student by asking other students to wear pink the next day. The show of solidarity stopped the bullying and helped this student feel safe coming to school.
"I am extremely proud of the efforts made by the students and staff in our various schools in how they have embraced this initiative," says Todd Miller, Principal of Claude E. Garton Public School and Chair of the Equity and Inclusion Working Committee. "There is no room for injustice at Lakehead Public Schools and events like this clearly demonstrate how our staff and students feel about bullying and discrimination."
Events will be happening at the following schools on Wednesday, April 8:
Westgate Collegiate and Vocational Institute – 12 noon
Westgate Collegiate and Vocational Institute Gay Straight Alliance is celebrating the annual Day of Pink with a number of activities.

The day will begin with a homeroom pink challenge with the class with the most students wearing pink winning a Persian party.
At noon in the Main Hall, in addition to signing a pledge to condemn homophobic, transphobic, bullying and discrimination, students will be raising funds for a Rest and Restore room by selling baked goods, cotton candy and popcorn.

Claude E. Garton Public School – 12:45 p.m.
In addition to encouraging students and staff to wear Pink, the Claude E. Garton Public School Social Justice Club has planned the following:

Students without pink clothes at home, they can buy a pink bandanna for a nominal price of 25 cents on Tuesday, April 7.
The class (or classes if it's 100%) with the highest percentage of students wearing pink on the Wednesday, April 8 will get to vote a volunteer staff member who will then get his or her haired spray-painted pink and styled at an assembly on Thursday, April 9 at approximately 9:15 a.m.