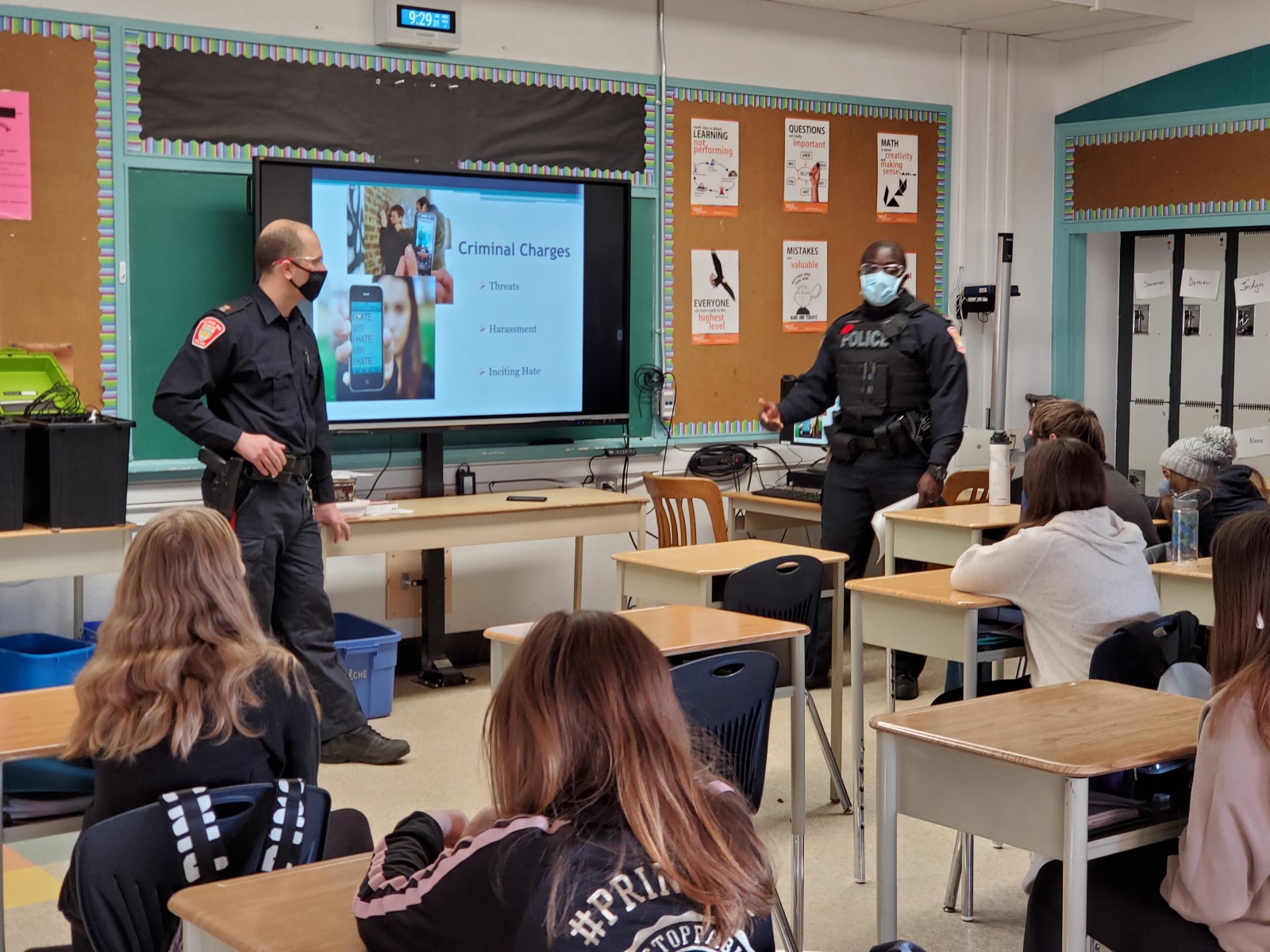 Standing Up Against Bullying Alongside Thunder Bay Police Service
Nov 20, 2020
In Ontario this year, November 15-21 is Bullying Awareness and Prevention Week. Schools are encouraged to heighten the awareness of bullying to prompt school communities to be mindful of their comments and actions. Bullying can happen intentionally, as well as unknowingly, and teaching children what bullying looks like can be the first step in eliminating it.
Kingsway Park Public School has taken bullying awareness seriously this month by hosting the Thunder Bay Police Service in their grade 6, 7 and 8 classrooms. In recent years, cyberbullying has become prominent in social media. As cyberbullying can appear in various forms, community police officers spoke to the preadolescents to make them cognizant of the severity of consequences bullying can bring.
As students become more familiar with technology, it is imperative that school communities do their part to ensure student safety. Parents are encouraged to speak with their children about using apps responsibly and safely. The visit from the Thunder Bay Police Service was an important reminder about the positive influence of maintaining an open dialog with kids to keep them safe online, at home and within our schools.
Bullying can lead to social and emotional problems in students and can have a negative impact on academic success. It is Lakehead Public Schools' Promise To Students that they receive support to achieve academic excellence and personal well-being. Therefore, bullying will continue to be prevented and addressed in all schools. The positive influence police officers have on children is significant and very effective in reducing intimidating actions and comments.
Lakehead Public Schools' policy on bullying states that it is the responsibility of all members of a school community to prevent bullying and address it if it occurs (Bullying Prevention and Intervention Policy #8071 https://www.lakeheadschools.ca/docs/Board/Policies%20And%20Procedures/8000%20School-Community%20Relations).
If you suspect your child is being bullied at school or on the bus, please speak to your child's teacher.
To learn more about how you can stop bullying, visit the Ministry of Education's website section on safe schools: http://www.edu.gov.on.ca/eng/safeschools/bullying.html#schools.