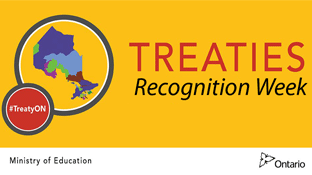 Treaties Recognition Week Activities
Nov 7, 2016
Students and staff of Kingsway Park Public School will be recognizing Treaties Recognition Week with the visit of a very special guest. MP Don Rusnak will be visiting the school to join students at a special assembly as they recognize the first week in November as Treaties Recognition Week.
"We are honoured to have our local Member of Parliament join us as we celebrate the first ever Treaties Recognition Week in Ontario," says Darren Lentz, Principal of Kingsway Park Public School. "This week is an opportunity for teachers to plan curriculum-linked learning activities about treaties during the school year and will help promote awareness of treaties in the broader public. It is part of the reconciliation process here at Kingsway Park Public School."
At the conclusion of the formal presentation at 10:30 a.m., MP Rusnak will tour the school with students. Following the tour, Kingsway students will participate in traditional games facilitated by Kingsway Park Public School Academy students.
The Ontario Government introduced Treaties Recognition Week this past Spring to bring awareness to the treaty relationships between Indigenous and non-Indigenous people in the province.