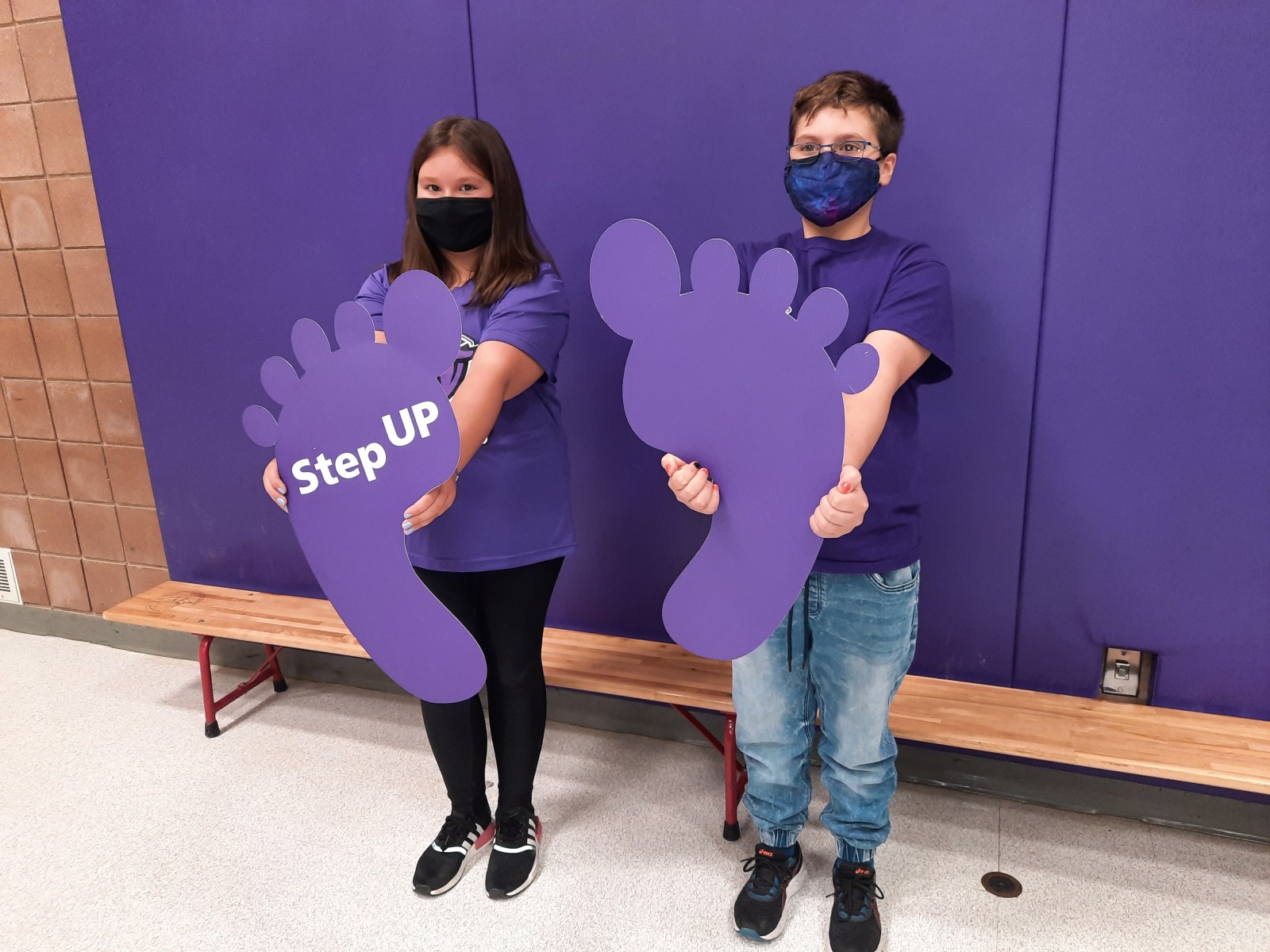 Dynamic "Step Up" Workshop Boosts Confidence
Oct 27, 2021
October is child abuse prevention month and today, more specifically, is Dress Purple Day in Ontario. By wearing purple today, students and staff showed their support for children's right to well-being. To convey October's important yet difficult message to a crowd of Grade 4-6 students, Claude E. Garton Public School brought in expert David Jones, founder of Turtle Concepts, to convert the sensitivity of the topic of child abuse into constructive and commendable acts of kindness for the students to apply.
The Step Up workshop sought to instill the feeling of self-confidence in the nine- to 11-year-olds and empower them to practice kindness. Addressing the notion that they may feel silly or afraid to act compassionate at that impressionable age, the motivational speaker challenged the group to step up and rise above that insecurity. Students were invited to share stories of when they stepped up and demonstrated good will. The Claude E. Garton Public School students spoke of stepping up against bullies to protect a friend, going above and beyond to cheer up a sibling, and speaking up for oneself when feeling mistreated. Way to go!
Jones challenged the students to step up today by selecting one act of kindness and ensuring to complete it. "Dilico and Turtle Concepts have come up with an innovative way to showcase energy and give children a chance to have a voice. Stepping up is a smile, is being kind, is stopping the bullying,", said Jones.
School Principal Shannon Jessiman-MacArthur was pleased to partner with Turtle Concepts again and plans to continue to welcome their motivational speeches into the school for not only students, but staff too. "We've partnered with Turtle Concepts in the past to do motivational speaking for our students, and it's always been a really awesome event, so we are happy to partner with them again today for this important Step Up campaign," said Jessiman-MacArthur.
Today's workshop was presented in partnership with Dilico Anishnabek Family Care, local partner and valued supporter of child welfare. https://www.dilico.com