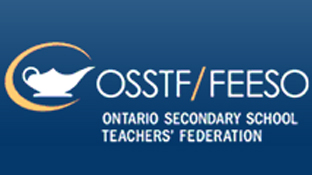 Excellence in Education Student Achievement Celebration
Apr 28, 2017
Over 40 students from all Lakehead Public Schools Secondary Schools and the Lakehead Adult Education Centre will be recognized for outstanding academic achievement and community citizenship on Saturday, April 29 at Superior Collegiate and Vocational Institute. The annual "Excellence in Education" student achievement awards ceremony is proudly hosted by the Ontario Secondary School Teachers Federation (OSSTF). This year marks the 35th year of the awards.
"These awards underscore OSSTF's commitment to student success as well as the importance of recognizing achievement within the school and in the surrounding community" says Paul Caccamo, President OSSTF District 6A. "We are looking forward to celebrating with these young men and women, as well as their parents, their commitment to "Excellence in Education."
OSSTF/FEESO, founded in 1919, has 60,000 members across Ontario. They include public high school teachers, occasional teachers, student support professionals, continuing education teachers and instructors, early childhood educators, psychologists, secretaries, speech-language pathologists, social workers, plant support personnel, university support staff, and many others in education.