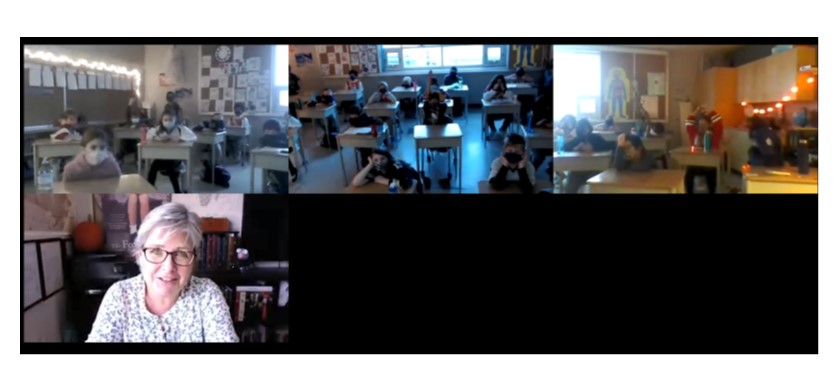 Fifth Graders Interview Bestselling Canadian Historical Fiction Author
Nov 2, 2020
At Woodcrest Public School, Mrs. Liggins' love for reading inspired a learning opportunity for her grade 5 class. Canadian bestselling historical fiction author, Genevieve Graham, made a virtual appearance in the class to participate in a one-hour interview by the fifth graders themselves.
The activity was history based, as the author's recent novel, The Forgotten Home Child, delivers a number of Canadian historical facts. The author's passion in this novel is to communicate a lesser known part of Canadian history, that of the home children in the 19th century. The class learned about the home children in preparation for the interview and asked the author many interesting questions, including questions about being a novelist. When asked what inspired her to become an author, Graham answered that her love of reading did, but that in order to write her first book, she first had to overcome her fear of failure. She explained that the fear of underperforming held her back for a long time, until she resolved to write solely for herself. With her newfound confidence, the success of her first book ensued and seven books followed, with two more on the way for 2021 and 2022.
Home children were children aged 5 to 17 from the United Kingdom who were sent, largely from 1869 to the 1930s, to other countries including Canada to serve and live with new families until they turned 21 years old. The author explained to the students that not all home children experienced hardship, but that many did. The students listened respectfully as the author touched on the difficult aspects of life in that era. The author believes it is a thought-provoking part of history that can be used to encourage conversations with family members about lineage. The author added that in her extensive research while writing the novel, she discovered that over four million people in Canada come from home children descent.