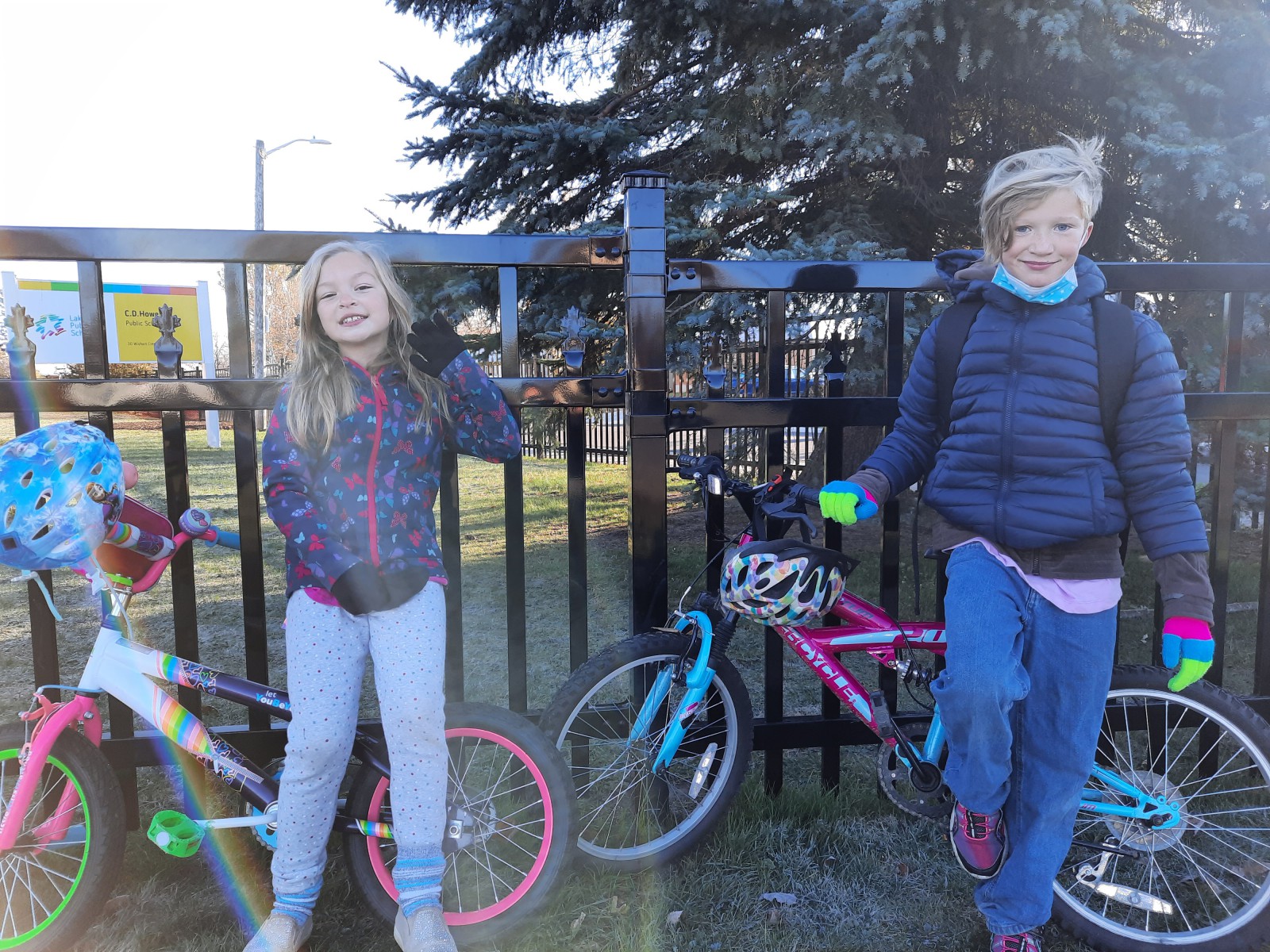 "Fill the Bike Racks" Deemed Huge Success
Oct 21, 2021
C.D. Howe Public School students endeavored a brand-new adventure today, and they are sticking to it.
An uber-successful group bike ride around McVicar's Creek saw no less than 50 cyclists this morning as C.D. Howe Public School students, staff, and guests were enlivened with the start of a new annual tradition – Fill the Bike Racks.
Thanks to the existing partnership with two local entities, Eco Superior and Thunder Bay District Health Unit, and the start of a new partnership with Community Spokes, this event was highly popular from inception. Today's "Fill the Bike Racks" event saw students bike to school, receive a bike safety education session, learn about the Walk or Wheel Thunder Bay initiative, and receive prizes and a free bike tune-up on site – not to mention the crisp morning group bike ride.
Grade 3 student Ailie Simone was eager to share her thoughts on the action. "It was really fun. I thought it was beautiful, and I liked the feeling of being outside and being in nature. I love biking," said Ailie, adding that biking is all she ever wants to do at home.
When asked about her thoughts on the morning's events, Grade 8 student Rachael Lynn Mann gravitated toward acknowledging the educational side of things, indicating that it is important to have fun while being safe. "We learned what hand signals to do when you turn, and to walk our bicycles across the street, and which side of the road to stay on," said Rachael. Rachael added that school days dedicated to exercise and fun are important for children, and it helps make good memories.
Owner of local bike business Community Spokes, Ian Cameron encourages students of all ages to drop by the store with their parents to learn about bikes, mechanics, tune-ups, and how the store can offer volunteer opportunities. "We don't only focus on teaching skill; we also focus on the community aspect. We work with high school students getting their 40 hours of volunteer work, co-op placements, and even middle school kids who love bikes and want to learn," said Cameron.