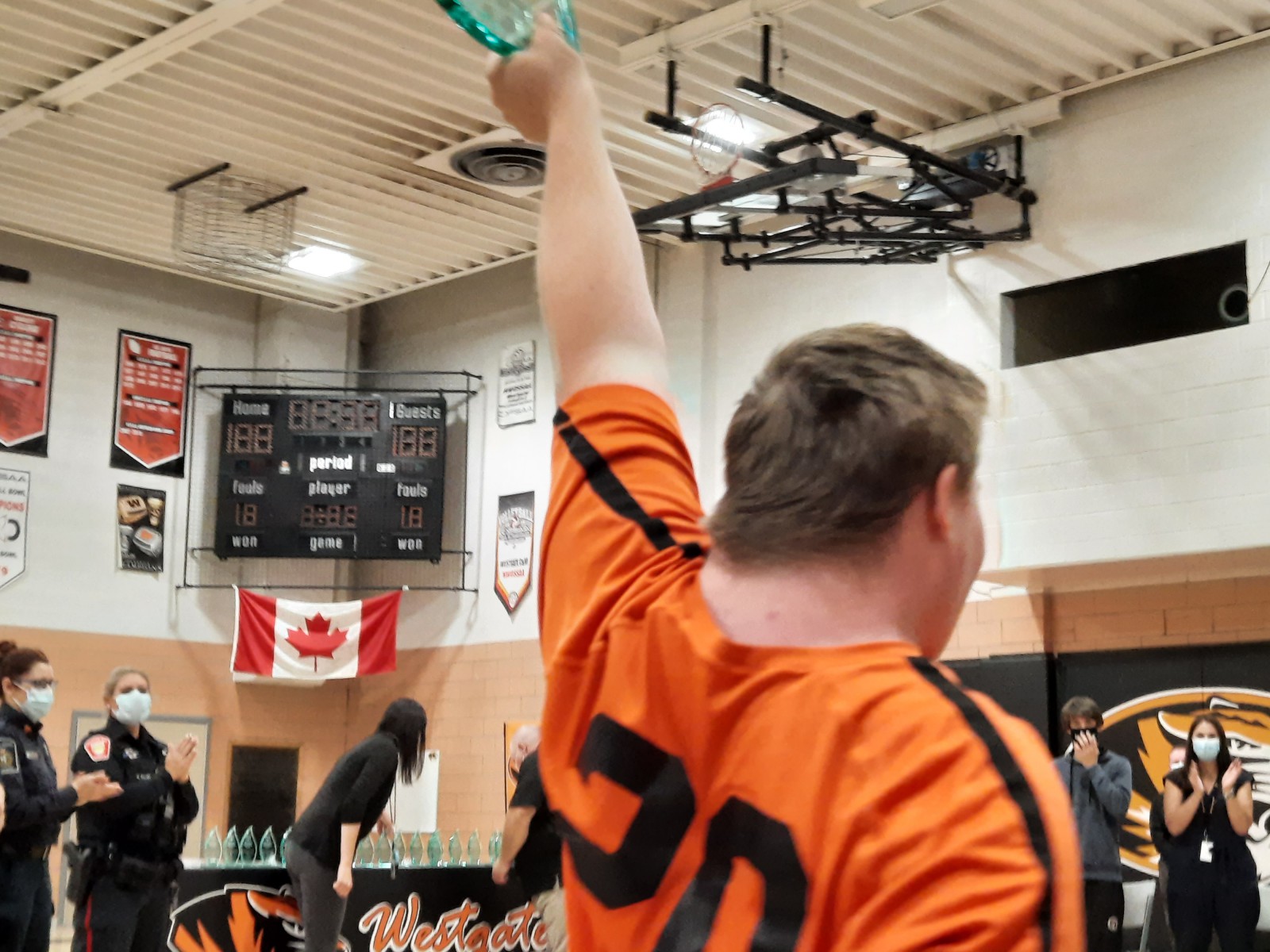 Special Needs Program wins Team of the Year
Oct 20, 2021
The excitement was palpable at the Westgate CVI gymnasium on Tuesday. Students, teachers, guests, and school Board dignitaries were proud to attend an exclusive awards ceremony to celebrate the achievements of Westgate CVI's Special Needs Program as it was named Team of the Year by Special Olympics Ontario for the 2020-2021 school year.
Last year, students in the school's Special Needs Program competed in the Special Olympics virtually across Ontario in events such as soccer, basketball, bocce ball, and track and field. While many of the students on the team contributed by participating in the sporting events, some students participated via other avenues such as contributing to Special Olympics meetings and conferences. Grade 12 student Dakota McMurrich was invited to be the voice of the students at a leadership conference for the Special Olympics World Games to discuss student leadership and the future of Special Olympics at the school level. When asked about the Special Needs Program at Westgate CVI, Dakota was enthusiastic to share her love for the school and discuss her pride of being a Tiger and the support she's received from her teachers. "They've been really helpful and supportive of everything we do, and they're just the best teachers," said Dakota. Thank you to all educators, especially Kyllie Daniar, Dave Workman, Tara Shewchuk, and Demetris Hatzis, for their amazing and impactful work within the Special Needs Program.
Speaking of support, also in attendance was Director of Education Ian MacRae, Principal of Special Education Maggie Fredrickson, Westgate CVI Principal Coral Klein, and Vice Principals Dave McCallum and Jeff Upton. In addition, members of the local Law Enforcement Torch Run for Special Olympics (LETR) made the scene forming a congratulatory receiving line including the Ontario Provincial Police and Auxiliary, Thunder Bay Police Service, RCMP, and Canada Border Services Agency. The LETR is the largest public awareness and fundraising group for Special Olympics and the local members are known for having a profound impact on Special Olympics in Thunder Bay.
Congratulations to the #SuccessfulLifelongLearners of Westgate CVI's Special Needs Program on their wonderful achievement!