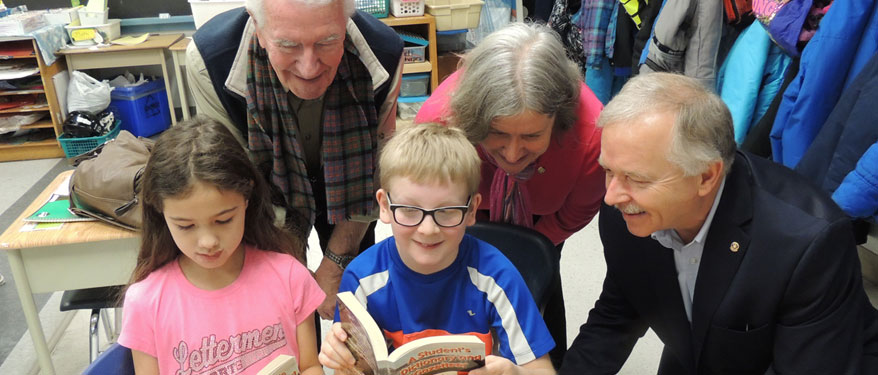 Fort William Rotary Defines Generosity
Jan 26, 2016
The Grade 3 class at Hyde Park Public School has found the definitions of good character and generosity! And they had to look no further than the Rotary Club of Thunder Bay (Fort William). The Hyde Park students are the grateful recipients of a generous donation of a set of dictionaries. The donation is reflective of the literacy mandate of Rotary International and the Rotary Dictionary Project.
"The Rotary Dictionary Project provides third grade students with a personal dictionary of their very own that will serve them through elementary school," says Bev Knutson, President of Fort William Rotary. "Many educators and researchers see this as a key to better reading, speech, and writing. These skills will improve student performance in other subjects as well."
Fort William Rotarians will visit Hyde Park Public School on Wednesday, January 27 to present the Grade 3 students with their personal dictionaries. During this visit, the Rotarians will also explain what Rotary does for children locally, nationally and internationally.
"We are absolutely thrilled to welcome the Fort William Rotarians to our school for this very generous presentation," says Shannon Jessiman-MacArthur, Vice-Principal of Hyde Park Public School. "In addition to the literacy aspect, it is extremely beneficial for students to meet adults who are dedicated to making a better community for everyone through community service."