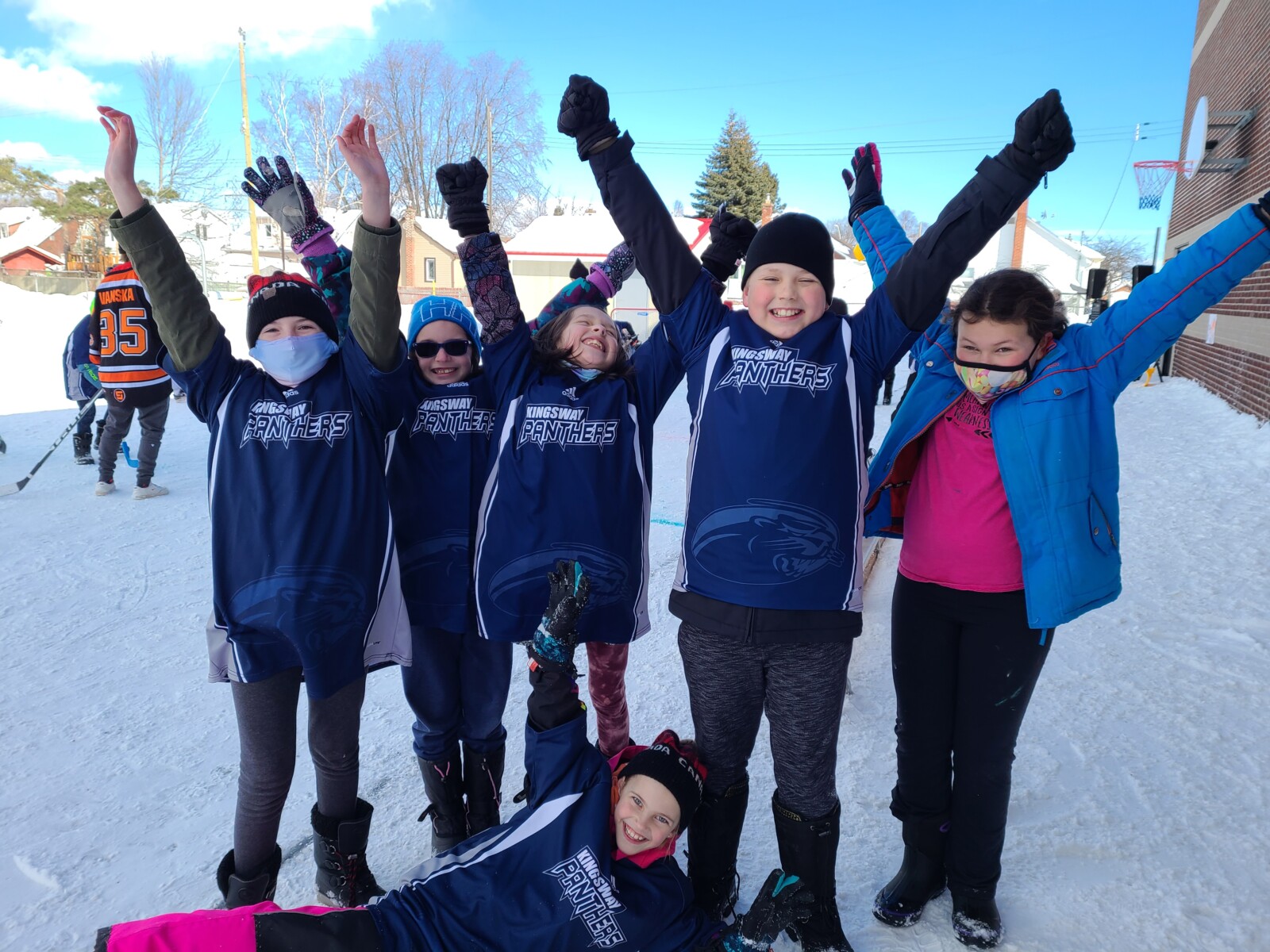 Kingsway Panthers hold their own against the Kam River Fighting Walleye
Mar 8, 2022
This week, the Grade 4 students at Kingsway Park Public School faced off against one of Thunder Bay's leading hockey teams – The Kam River Fighting Walleye – in an outdoor game of boot hockey.
The students challenged the Superior International Junior Hockey League team to the game last week, and the team was pleased to accept. The school set up a mock rink with a school branded face-off circle, a spectator zone, and complemented the space with an animated hockey enthusiast equipped with a microphone. The lively fourth grade commentator kept the fans apprised of the everchanging score. The game opened with the Kam River Fighting Walleye scoring the first goal in the first minute, followed by the Kingsway Panthers tying the score within seconds.
Grade 4 student Colby Towell played left defense and felt confident in his team's abilities. "It's going to be a close game for sure. If anything, whoever is the most puck hungry and whoever wants the most goals and the most time with the puck is going to win. I'm thankful that Mrs. Bernst set all this up just for us".
"We wanted something fun and inspiring. We have some great local heroes in our community and the Kam River Fighting Walleye are a perfect example of that," said Kali Bernst, principal at Kingsway Park Public School. "We wanted to bring that into our school community to inspire kids and build some positive competitive skills".
As predicted by the defenseman, the students proved worthy opponents and tied the game 8-8 in the third period. The Kam River Fighting Walleye enjoy giving back to the community and is grateful for the opportunity to return the support they have received. "We're out supporting the community. They've been a huge help to us this past year, and we want to give something back by having a fun day of street hockey out here with the kids," said Alex Enegren. The number 8 player holds the center forward position with his team and wants young hockey players to be tenacious and pursue the competitive sport if it is their dream. "Don't let anybody tell you you can't do it, because I've gone through a lot of that myself; people telling me I can't do it, I'm not going to make it. Don't listen to them, just keep practicing and keep having fun," said Enegren.
Kingsway Park Public School utilizes their outdoor learning spaces as much as possible, and this open-air activity was particularly special with the presence of professional athletes that many students look up to. Lakehead Public Schools thanks the Kam River Fighting Walleye for the friendly game and their sociable approach.