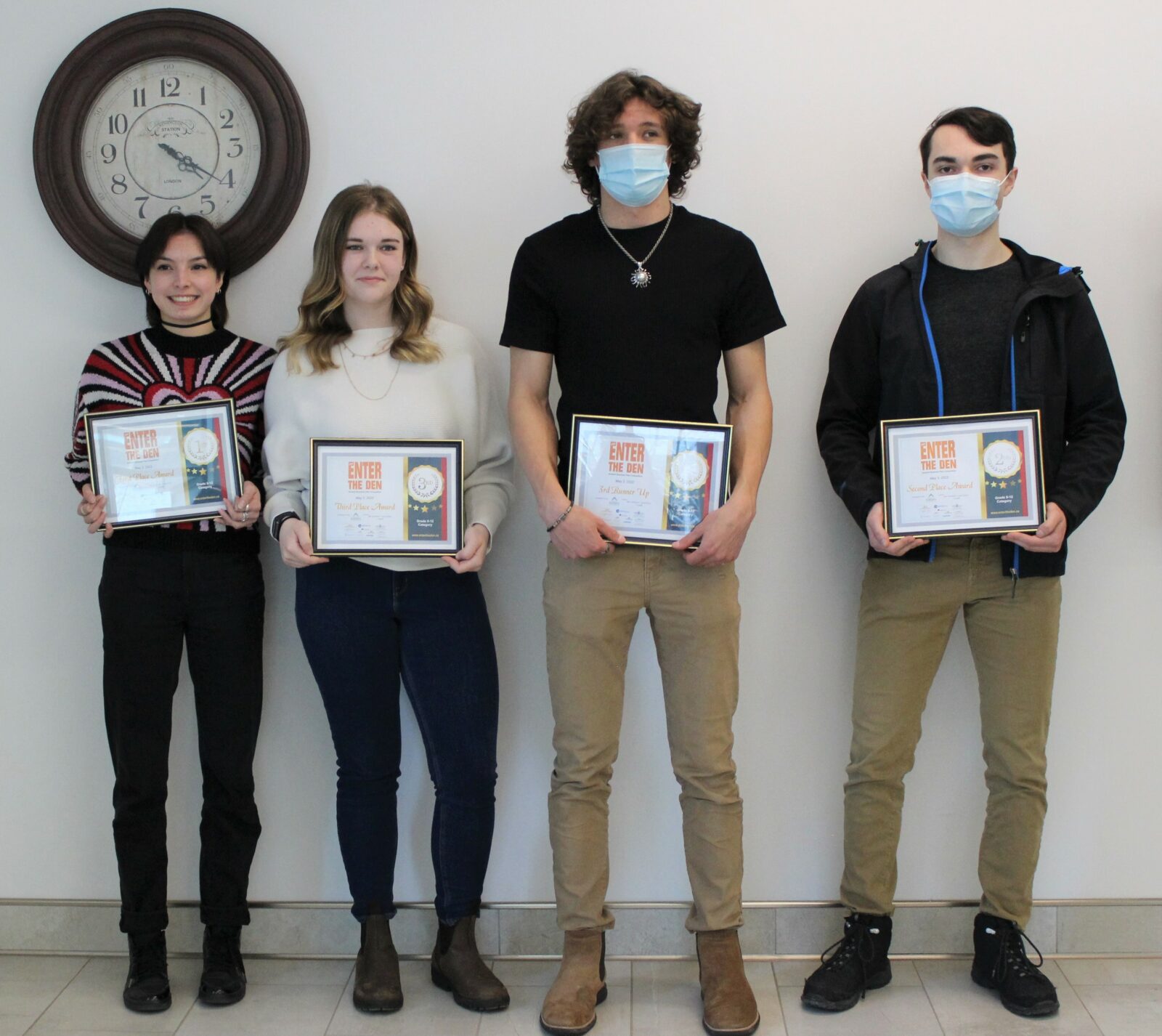 Lakehead Public Schools Dominates the Den
May 4, 2022
Students from Lakehead Public Schools were awarded five out of the six winning spots in this week's city-wide Enter the Den business plan competition.
Every year, local partner in education Enter the Den launches the student business plan competition for students in Grades 7 to 12 across Thunder Bay. Out of 140 student business plans submitted, nine were named finalists and eight out of the nine finalists were Lakehead Public Schools students. This week, the nine finalists took turns bravely presenting their business plans to a panel of judges in person at Lakehead University, answered questions, and defended their ideas. Hats off to the following eight Lakehead Public Schools finalists who competed for the top three spots in each of their age categories:
SECONDARY
Sarah McChristie with "Cleaning with Meaning" (Westgate CVI)
Liam Nicholl with "Thunder Rolls" (Westgate CVI)
Serena Dick with "Summer Splashers" (Westgate CVI)
Benjamin Wheeler with "Tucker Creek MFG" (Westgate CVI)
ELEMENTARY
Emma Reid with "Emma's Farm Fresh Experience" (Crestview Public School)
Owen Lemoine with "MediaCommercialZap" (Ecole Elsie MacGill Public School)
Miles Kozar with "Colour Your Memories" (Ecole Elsie MacGill Public School)
Collin Woods with "Wood-sy" (Westmount Public School)
In the Secondary category, Sarah McChristie (Grade 11) won first place and a $1,000 cash prize. Liam Nicholl (Grade 11) took home second place and a $500 cash prize, and Serena Dick (Grade 11) was awarded third place and a $250 cash prize.
In the Elementary category, Emma Reid (Grade 7) won second place and a $500 cash prize and Owen Lemoine (Grade 7) won third place and a $250 cash prize.
Congratulations to all participants and winners!
Enter the Den partners with Thunder Bay Ventures to produce this event. Together with school boards, they engage youth in the field of entrepreneurship and offer the students encouragement and support throughout the entire competition. Lakehead Public Schools received on-site presentations offering business plan education as well as tips on presenting and defending a business plan. Lakehead Public Schools encourages students to continue to enter business competitions and explore the various fields of business.
PHOTO:
1st place: Sarah McChristie (left)
2nd place: Liam Nicholl (right)
3rd place: Serena Dick (center left)
3rd runner up: Benjamin Wheeler (center right)