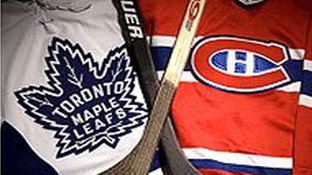 Maple Leafs and Habs in a Playoff Match!
May 26, 2016
And they said it wouldn't happen this year! The Toronto Maple Leafs and the Montreal Canadiens are in a playoff race! On Friday, May 27 the good character and generosity, fueled by a special incentive, has helped the students and staff of Westmount Public School to raise funds through a small change collection for the families impacted by the fires in Fort McMurray.
"My Grade 7 and 8 class has been focused on Global Citizenship and they decided to do something to help the people impacted by the fires," says Lisa Dampier, Grade 7 and 8 Teacher at Westmount Public School. "We had a goal of $500 and then a challenge by Edgewater Park Public School was issued. We have since raised $1,500. Unfortunately, our Principal may have to pay the ultimate price for our efforts!"
After the initiation of the Westmount fundraising effort, a challenge was issued by Edgewater Park Public School. If Edgewater raises more money than Westmount, the Principal of Westmount, AJ Keene (a die-hard Habs Fan) will have to wear a Toronto Maple Leafs jersey for the entire day. And if Westmount raises more than Edgewater, Murray Magill Edgewater Teacher will be donning a dreaded Montreal Canadiens jersey for the day.
The intrigue will be palatable!