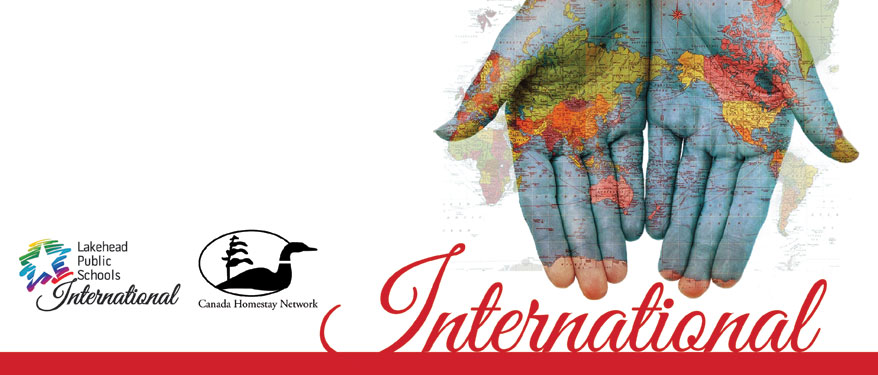 Open your home to the world!
Jan 5, 2016
Hello and Happy New Year!
Lakehead Public Schools International (LPSI – https://international.lakeheadschools.ca/) in partnership with the Canada Homestay Network (CHN), want to ensure international students have a successful educational experience with a caring host family and comfortable home during their time in Thunder Bay.
The Canada Homestay Network has been operating for 15 years matching tens of thousands of students from all over the world with families to provide them with a "home away from home". CHN arranges a personalized match between the student and Canadian host, based on backgrounds, interests, lifestyles, and educational goals. Their standards of host recruitment are recognized as the highest in Canada. CHN visits interested hosts in person, in their homes and carefully inspect their house. They discuss in detail the expectations for the kind of care and attention students will need.
We (LPSI) are now starting our recruitment process for host families for September 2016.
(However, we may have a need for one home for February 2016…if you are interested in being a host for February 2016 please email me to let me know).
If you are interested in being a host for students coming to the Lakehead Public Schools International program, please visit whyihost.ca/thunderbay. At this web page you will find more details about being a host family along with the host application form.
Please forward this information on to your family, friends and contacts if you think they might be interested in being a host for International Students.
If you have any questions or would like more information please feel free to contact me.
best regards,
Jeff Upton, H.B.Sc., B.Ed., M.Ed., OCT
Education Officer
Lakehead District School Board
2135 Sills Street
Thunder Bay, ON P7E 5T2
Voice: (807) 625-5100
Fax: (807) 623-7848
Email: jupton@lakeheadschools.ca