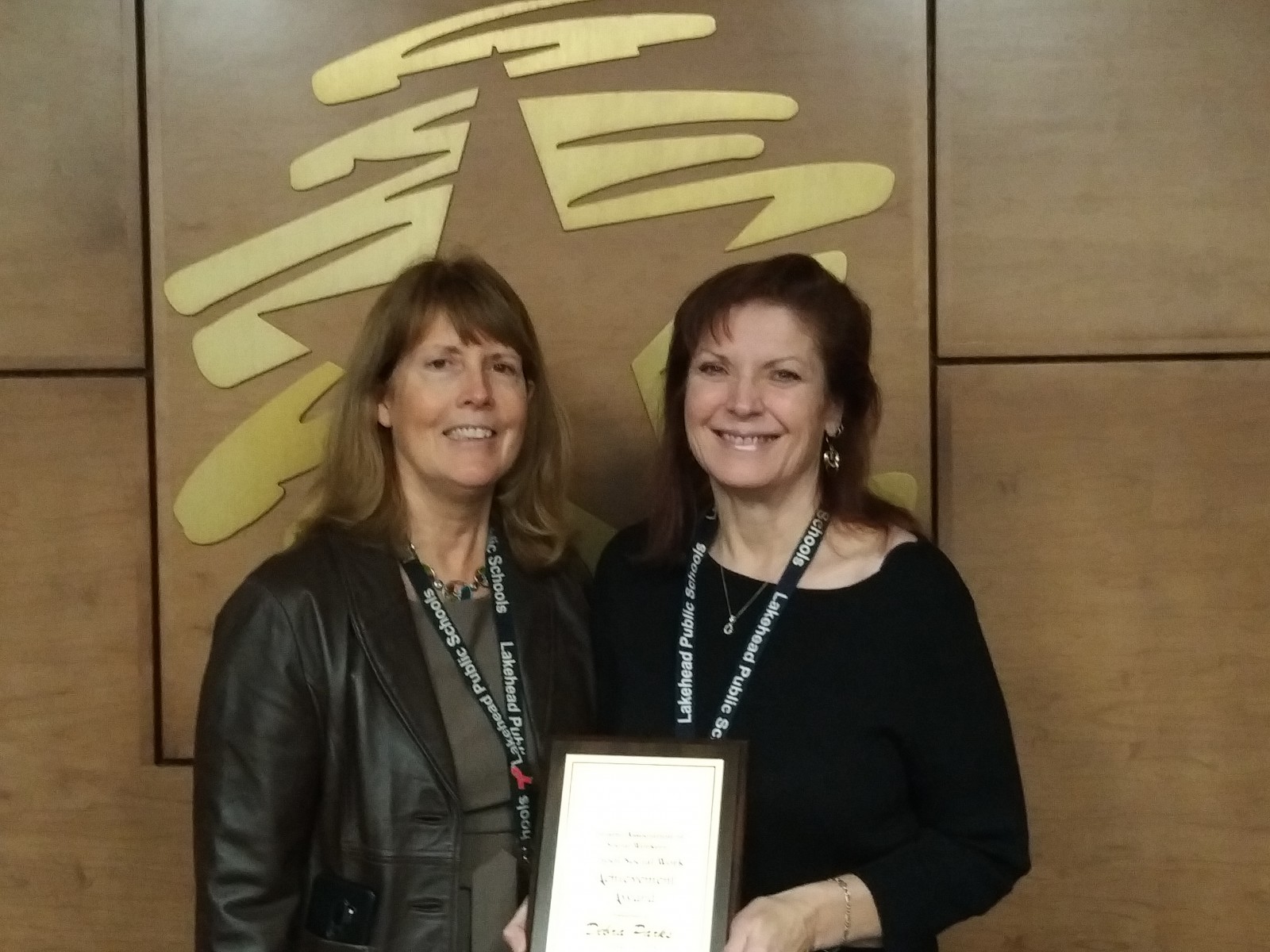 School Social Worker Receives Provincial Award
Oct 29, 2018
The Lakehead Public Schools Mission Statement is "We are committed to the success of every student". For the past 19 years, School Social Worker Debra Parks has truly embodied that belief into every facet of her career as an attendance counsellor and a social worker in both elementary and secondary schools. In recognition of her exemplary career, Ms. Parks received the School Social Work Achievement Award at the Ontario Association of Social Workers (OASW) Symposium in Woodbridge, Ontario on Thursday, October 18.
"We are extremely proud of the critical work that Debra and all of our Social Workers and Attendance Counselors do for our students," says Collen Kappel, Superintendent of Education. "Debra is very deserving of this special award from her provincial peers. She is extremely well respected by all staff and community members. Our schools rely on her expertise to support students and their families throughout the system."
Throughout her career, Ms. Parks has been extremely responsive to the diverse and changing needs of Lakehead Public Schools students and schools. As a consummate professional, she continues to adapt to challenges and systemic changes thorough innovation in her social practice.
"Debra has always advocated to meet the needs of students and their families and she goes above and beyond in her work," says Kappel.
Debra Parks is dedicated to mental health and well-being initiatives and has been an integral member of Lakehead District School Board's Mental Health and Wellness Team, Tragic Events Team, and the Mental Health Steering Committee and was also a member of Thunder Bay's Youth Suicide Prevention Task Force. Debra is always willing to support schools during times of tragedy and she has supported a number of external organizations and communities as well.
"The dedication of Debra to our students extends to the community as she works effectively with mental health and social service agency partners and maintains professional networks," says Kappel. "In her work with community partners, Debra continues to put the needs of our students and families first. She is one hundred percent committed to supporting the education system through life-long professional learning and relationship building."
***Photo shows left to right – Colleen Kappel, Superintendent of Education and Debra Parks, School Social Worker.