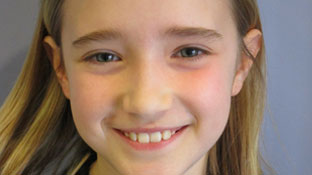 Student Principal for the Day
Mar 31, 2015
On Wednesday, April 1, grade 4 student, Emily Palo, will be stepping into a new job as Principal for the Day of Five Mile Public School. At a recent Dance-A-Thon fundraiser to build school spirit and raise money for extracurricular opportunities, Emily came out as the Grand Prize winner and earned the opportunity to lead the school for a day.
"We are so excited and proud of Emily and we look forward to a wonderful day when she is in charge," says Angelina Tassone-Vogrig, Principal of Five Mile Public School.
Emily will be putting in place some exciting changes that day including a longer lunch period for all students, healthy snacks provided to staff and students and the organization of the biggest Freeze Tag game ever. Throughout the day, Emily will be busy meeting with custodial staff, reading to Primary classes and much more.
Five Mile Public School strives to encourage and support student leadership. Based on Stephen Covey's "7 Habits of Happy Kids" and "The Leader in Me" approach, Five Mile encourages students to develop the skills and self-confidence needed to thrive in the 21st Century economy.