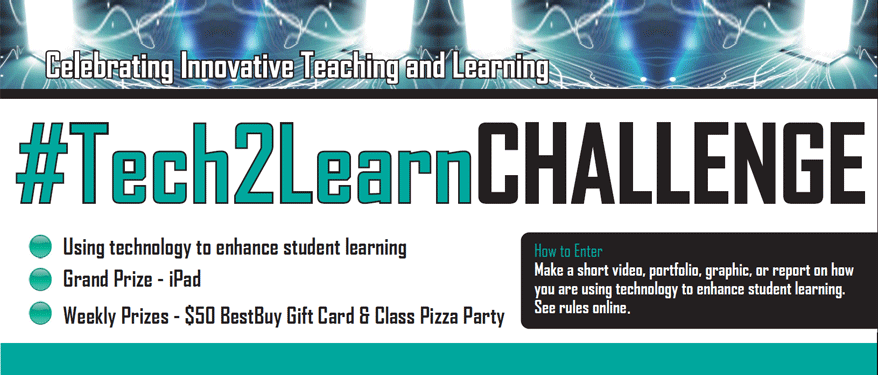 tech2learn Challenge
Apr 14, 2016
The #Tech2Learn challenge seeks to capture and celebrate innovative teaching and learning practices that use technology to enhance student learning. Students and staff at Lakehead Public Schools are utilizing innovative technology, tablets, laptops, apps and websites that excite and engage students in learning and this challenge seeks to showcase these accomplishments.
How to enter
This contest is open to any student or staff member in Lakehead Public Schools.
Prizes
Weekly prizes – Each week we will award a 50$ Best Buy gift certificate to the winner and a pizza lunch to the winners class.
Grand prizes – On May 27 we will announce two overall winners (1 elementary and 1 secondary submission) who will receive an iPad.
Standards
Students or staff can enter a short video, digital portfolio, website, graphic or report on how they are using technology to enhance student learning. Examples of Some of the things you may want to consider showcasing include:
Use of technology to promote authentic and engaging learning
Skills for a digital age

Creativity and innovation
Critical thinking
Communication and digital literacies
Collaboration
Digital citizenship

Empowerment – self-directed, self-paced learning
Anytime/anywhere learning – shift from learning "in the classroom" to lifelong, borderless learning
Example Submissions
This contest was modeled after a similar "Classroom of the future challenge" by MindShare Learning. Past contest winners to this challenge can be found here – http://mindsharelearning.ca/video-challenge-winners-circle/