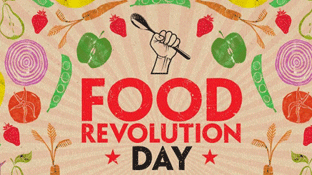 The Revolution Starts Now!
May 24, 2016
The students and staff of Hammarskjold High School are in full support of a revolution. And this revolution does not involve the likes of George Washington or even Che Guevara, just some really tasty fresh food. Friday, May 20 was Food Revolution Day, a global day of action that will have everyone at Hammarskjold celebrating good and real fresh food. The theme for this year's food Revolution Day is "Sharing the Power of Cooking!"
The benefits of healthy and tasty fresh food will be demonstrated by the students and staff at Hammarskjold High School through a number of games and activities including a blender bike for making smoothies, informative games, prizes and chili made by the Foods classes. Training for Food Revolution Day was provided by Thunder Bay District Health Unit Healthy Schools team.
Students in the Grade 10 and Grade 12 Foods and Nutrition classes are facilitating the event. The smoothies and chili will be made using the following local ingredients:
Carrots from Sleepy G Farms
Corn from Belluz Farms
Local Ground beef
Milk and yogurt from Slate River Dairy.