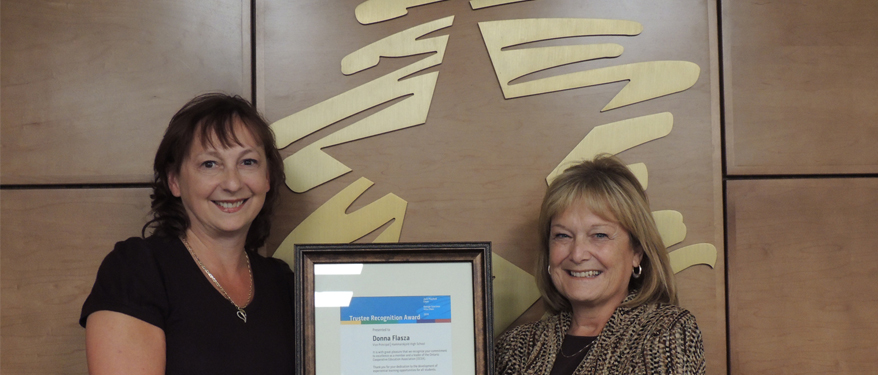 Trustee Recognition Award
Sep 23, 2015
Congratulations to Donna Flasza, Vice Principal of Hammarskjold High School for receiving a Trustee Recognition Award at last night's Regular Board Meeting.
The following address was given by Trustee Deborah Massaro as she presented the award to Ms. Flasza:
"In order to be nominated for a Lakehead District School Board Trustee Recognition Award, nominees must have "achieved personal levels of excellence in regional, provincial, national or international pursuits."
The recipient of this evening's Trustee recognition has certainly met this criteria.
I would like to invite Donna Flasza to come to the presenter's table to receive her Trustee Recognition Award.
Donna Flasza is the Vice Principal at Hammarskjold High School.
For the past number of years, Donna has been actively involved on the Board of Directors for the Ontario Cooperative Education Association and served as the President in 2013-14.
She just finished her term as Past President.
Donna's involvement on the board provides countless benefits to Lakehead Public Schools students and staff.
Her participation has resulted in the creation of resources and the provision of professional learning opportunities for members with regard to cooperative education and experiential learning issues.
Donna represents Lakehead Public Schools with exceptional integrity and professionalism and her efforts have been greatly appreciated by the members of the Ontario Cooperative Education Association.
I am very honoured to present this Trustee Recognition award to Donna Flasza, Vice Principal of Hammarskjold High School.
Congratulations Donna!"