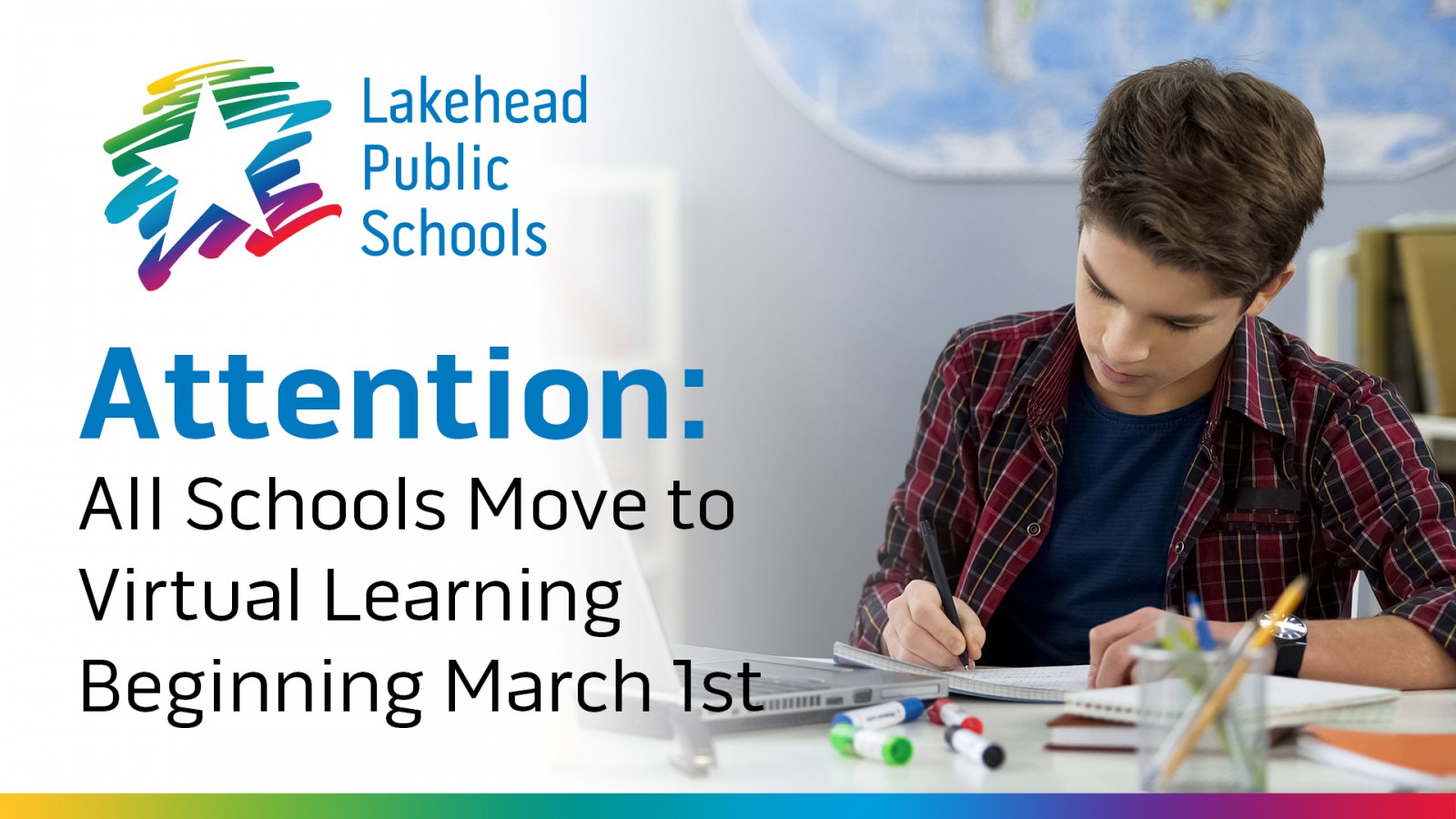 Virtual Learning
Feb 25, 2021
Dear Lakehead Public Schools Families,
Under the recommendation of Dr. DeMille, Medical Officer of Health with the Thunder Bay District Health Unit (TBDHU), all schools within our school board will be temporarily transitioning to virtual learning beginning Monday, March 1st. We are awaiting a letter of instruction from the TBDHU which will provide more information. We will continue to keep you informed as we receive further information. We have received an initial letter from the TBDHU, please view it here https://www.lakeheadschools.ca/docs/News/Covid/Letter_MOH Support for School Closure_2021_02_25.pdf (also available below). Thank you for your cooperation and ongoing support throughout these challenging times.
February 25, 2021
To: COVID-19 Leads – LPS, TBCDSB, CSDC Aurores Boreales,(Ecole Franco-Superieur and Ecole Secondaire Catholique De La Verendrye), Thunder Bay Christian School, Lac des Milles Lac Education Centre
Due to the high number of COVID-19 cases presenting in school communities, along with the risk of variants of concern, I strongly recommend moving to virtual learning for a period of two weeks for all schools in the City of Thunder Bay and surrounding communities.
A letter of instruction will be sent shortly outlining further details. We appreciate your dedication to ensuring that the students and staff within your schools are kept safe and healthy.
Thank you.
Sincerely,
Dr. Janet DeMille, MPH, FRCPC
Medical Officer of Health
Thunder Bay District Health Unit