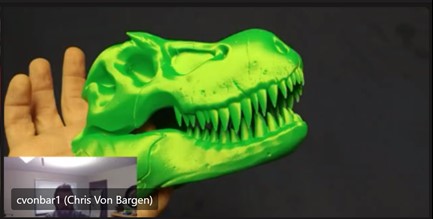 Tech Week Opens at Lakehead Public Schools
Mar 1, 2021
Tech Week kicked off this morning with several schools hosting virtual visits with tech experts. Claude E. Garton Public School's Mr. Magill chose local creative designer, teacher, scientist, and mechanical engineer pro Chris Von Bargen to speak to his grade 6/7 class. The special guest discussed the endless possibilities for youth once they discover that they have the potential to make anything they want, themselves.
With the use of a 3D printer and 3D modeling software, for example, youth can use their limitless imagination to conceptualize and produce a creation all in the same day. Von Bargen encouraged the students to discover technology and apply it to an existing interest, which is the same tip he gives his Confederation College students. Creations tied to personal interests result in the most refined end products. For his college students, these include a made from scratch electric violin, Iron Man mask, prosthetic limb, and remote-control helicopter, to name a few.
Von Bargen had a strong message for Mr. Magill's class: behind the creation should be a passion for the craft. He emphasized that students don't have to be perfect at the subject matter they're studying, as the success lies in liking the subject matter. "If you're OK at drawing and you like biology, you can be a medical animator. You don't need to be perfect in biology, you just have to like it", said Von Bargen. He discussed perseverance and how not everyone excels academically, and that it shouldn't narrow anyone's ambitions. He recounted the story of a former college student of his who needed to take every math and science class in the program three times in order to pass them, and that the student is now one of the greatest creative designers he's ever met. "We don't need someone who is the best in their class. We need thinkers and problem solvers", said Von Bargen.