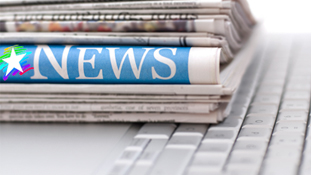 Water is Life
Mar 22, 2019
"Nibi iwe bimaadiziwin – Water is Life", is the title of an art exhibit that is currently on public display at the Thunder Bay Art Gallery. The Grade 9 Geography class, worked in collaboration with the Indigenous Cultural Academy at Hammarskjold High School on a student geography unit focused on the topic of water.
The unit began by having the students in the two classes examine several geography-related water issues, such as surface water patterns, the effects of urban expansion on water, industrial water treatment practices and the geographic distribution of communities with 'boil water' advisories in northern Ontario. Afterwards, the project was expanded to include important traditional and cultural teachings related to the role and sacredness of water to the Anishinaabeg culture. For example, students explored how water supports life, how water builds relationships, how water can heal. Finally, students studied what is needed for the protection and long-term conservation of water for future generations.
As a final project for the unit, students created paintings that combined visual representations of what water means to them, with mapping conventions such as the geographic coordinates of their home communities (e.g., Webequie, Gull Bay, Thunder Bay) and a 'bird's-eye-view' depiction of the main water body that supports these communities.
"Every painting tells an important story, and the project focus was really about raising awareness about the importance of water for the natural environment and human communities. Additionally, the unconventional nature of the combined geography/art project made it a lot of fun for students to work on, says teacher Lisa MacLeod, Grade 9 Geography Teacher at Hammarskjold High School. "It also helped them identify their strengths and gain some new Geography-related knowledge and skills. Working together with another class to create pieces of art that incorporated both geographical and cultural information, was also beneficial for helping students develop effective communication and collaboration skills"
"Learning and working together, sharing stories, the language and cultural knowledge has helped to create relationships between all of the students and it has also built friendships where none had previously existed," says Melissa Roberts, the Indigenous Cultural Academy Teacher at Hammarskjold High School. "The semester-long partnership between the Grade 9 Geography class and the Cultural Academy class has also shown improvement in student attendance and their levels of engagement in learning about various important issues such as the topic of water."
The art that Hammarskjold students created as part of the water project is currently on display in the Community Room at the Thunder Bay Art Gallery. The exhibit will run until March 30th, 2019 and is open to anyone that is interested in viewing it.