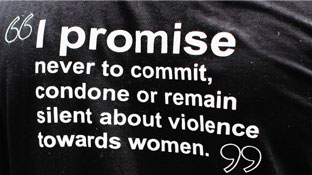 Westgate Says NO to Violence
Dec 5, 2016
The Gay and Lesbian Straight Alliance (GSA) at Westgate Collegiate and Vocational Institute is taking on the White Ribbon Campaign to promote awareness regarding violence against women. On Tuesday, December 6, male students and staff will be in the Main Hall at Westgate to give away white ribbons and to ask students to take a pledge to "Never to Commit, Condone or Remain Silent regarding Violence Against Women".
"The aim of the White Ribbon Campaign is to positively engage men – young men and boys through relevant educational programming that challenges language and behaviours, as well as the harmful ideas of manhood that lead to violence against women." says Carlos Santander-Maturana, Westgate Collegiate and Vocational Institute Education Assistant and White Ribbon Organizer.
The White Ribbon campaign is designed to commemorate "The National Day of Remembrance and Action on violence against Women." The day established in 1991 by the Parliament of Canada, marks the anniversary of the murders in 1989 of 14 young women at l'Ecole Polytechique de Montreal.
Nationally, the campaign aims to end violence against women by:
Challenging everyone to speak out, and think about their own beliefs, language and actions.
Educating young people, especially young men and boys, on the issue through the educational resources we produce.
Raising public awareness of the issue.
Working in partnership with women's organizations, the corporate sector, the media and other partners to create a future with no violence against women.
For more information and to take the online pledge to end violence against women and girls, please visit www.whiteribbon.ca.
The day also provides an opportunity to further promote 16 Days of Activism Against Gender Violence, which ends on December 10, International Human Rights Day. The GSA has organized a Homeroom Challenge to collect the maximum amount of toiletries and toddler toys to support the Beendigen Crisis Home and Faye Peterson House.
"Many women who use the services of Thunder Bay's two crisis homes, often they leave home only with their children and what they are wearing that day," says Santander-Maturana. "Our GSA recognizes the pressures that the two organization face to provide programs by collecting feminine toiletries and young children's toys."
The homeroom collecting the most items will win a pizza party at the end of the drive.