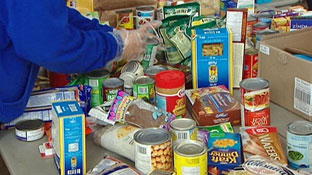 Yard Sale Proceeds Fund Shopping Spree
Dec 18, 2018
The Grade 6, 7 and 8 students from Kakabeka Falls District Public School will be heading to Odena Foods on Tuesday, December 18 for a shopping spree! The shopping spree will help fill the shelves at the Rural Food Bank with much needed non-perishable foods for the holidays for families in need. The funds being used in the spree were raised through a special yard sale held at Kakabeka Falls District Public School.
"Our students work very hard to organize and run our very successful yard sale every year," says Derek Kochan, Grade 6/7 Teacher at Kakabeka Falls District Public School. "They know that there are many families in need in our area and that we can make a huge difference with this effort!"
Earlier this month, the students held a yard sale with slightly used donated items and baked goods for sale to fund the food purchase. Other funds and canned goods were collected from a number of other initiatives.