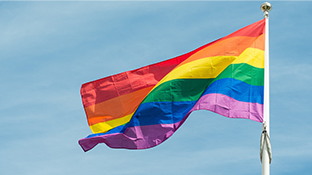 LGBTQ2S Rights are Human Rights
Nov 14, 2019
The Westgate Collegiate and Vocational Institute Gender and Sexuality Alliance (GSA) will be proudly hosting a city-wide Gender and Sexuality Alliance summit on Friday, November 15 in the new Westgate Cafetorium. The theme of the Summit is LGBTQ2S Rights are Human Rights.
"We are very excited to be able to invite all GSA's and some of the elementary school Social Justice Clubs to this very important event," says Carlos Santander-Maturana, . "It is an incredible opportunity to learn together as we listen to an expert on human rights."
The keynote speaker will be Mahejabeen Ebrahim who will deliver a lecture on LGBTQ2S+ Rights and human rights. Ms. Ebrahim is the Lakehead Public Schools and the Greenstone District School Board Human Rights and Equity Advisor. In addition to the keynote address, the Summit will include a variety of workshops on topics such as health and sexuality, power and privilege, transgender issues and gender Identity.