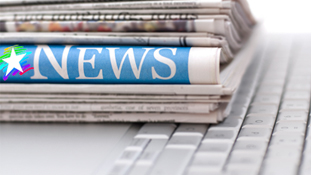 Tiger Power!
Oct 24, 2019
The Westgate Junior Tiger Football team is very proud to announce that, for the first time ever, all five Team Captains for this Thursday's final regular season game against the Hammarskjold Vikings will be all females.
Abby Skok, Hannah Zewiec, Hope Gordon, Eliza Paul-Scheibler and Emmy Honere (who also happens to be an exchange student from France currently attending Westgate) will represent their team for the coin toss sporting bright pink "C"s on their jerseys … not only as Tiger team captains, but also to bring attention to the fact that October is Breast Cancer Awareness Month.
Skok, a Grade 10 student and Defensive Lineperson / Slot Back says that she and the other female members of the team were "ecstatic" when they got the news that they would be the captains. "We're very proud and excited for this opportunity and we're honoured to lead our team on the field."
Tigers Head Coach Mark Nowak believes this is probably the first time ever in Thunder Bay that a team has had all female captains for a football game at either the Junior or Senior level.
"The girls totally deserve this recognition', Nowak said emphatically. "They are all working hard every practice and they have all played at numerous times throughout the season. Three of them [Skok, Zewiec, and Gordon] are starters and Abby is arguably one of our best players. They are exemplary student-athletes and their effort, determination and excitement are truly infectious. The team is behind them 100%."
Game time is 7:00 pm this evening at the Fort William Stadium.