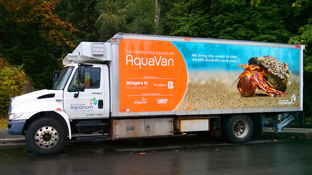 AquaVan Splashes Down at Algonquin
May 9, 2017
No, not Aquaman! The AquaVan! Students at Algonquin Avenue Public School will have the unique opportunity to learn about Canada's waterways on Tuesday, May 9. Algonquin students and staff will have a special visit by the AquaVan, a special mobile "wet lab"!
"In celebration of Canada's 150th, the Aquavan is hitting the road to visit 150 schools, camps and community groups from coast to coast," says Todd Miller, Principal of Algonquin Avenue Public School. "Algonquin is one of the 150 lucky schools to host this incredible program this year.'
The AquaVan is from the Vancouver Aquarium and along with the AquaVan Educators is travelling the country to celebrate our country's historic waterways, some of the animals that inhabit them, and the human impacts they face. Students will have a hands-on learning opportunity with live animals and artifacts. The AquaVan across Canada tour will also include a stop on Parliament Hill during the Canada 150 Celebration on July 1.