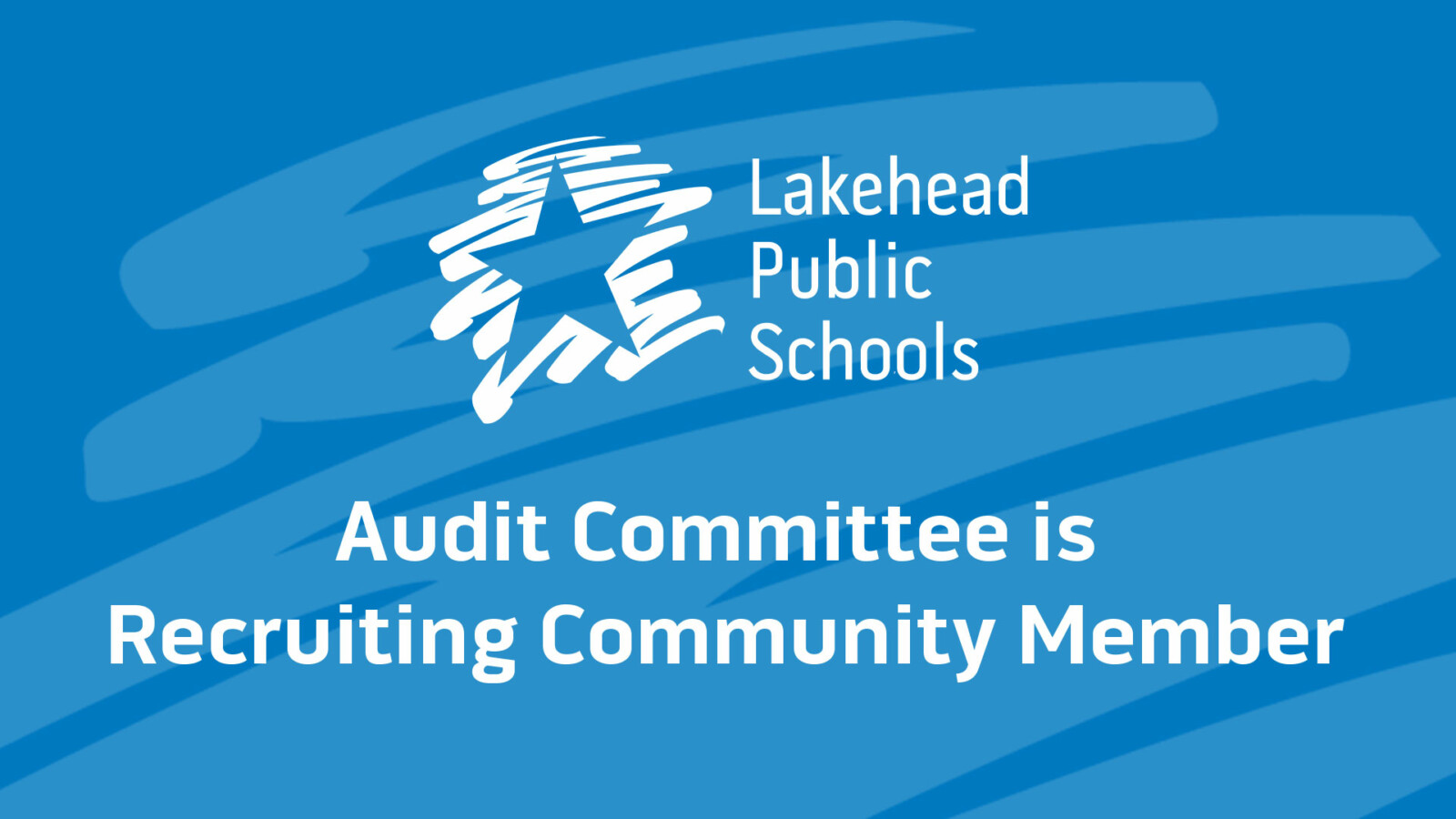 Audit Committee Recruiting
Feb 22, 2022
Lakehead District School Board seeks one (1) volunteer community member to serve on the Audit Committee.
Lakehead District School Board is seeking one community member with financial expertise and business knowledge to serve on the Audit Committee for a 4-year term ending in 2026. Application deadline is March 23, 2022.
---
The Audit Committee is comprised of three Trustees and two independent members drawn from the community at large. The primary role of the Audit Committee is to assist the Board of Trustees in fulfilling its duties related to governance and oversight. The duties of the Audit Committee fall under the following key areas: the financial reporting process, internal control framework, risk management practices, performance and function of the board's internal and external auditors and the board's compliance with its obligations under legislation. The Committee meets at least three times per year, plus ad hoc meetings as required. Induction training material is available on-line to all committee members to clarify roles and responsibilities of Audit Committees for the school board sector.
Candidate Eligibility:
Applicants must have sufficient accounting, senior financial management or other relevant business experience to understand public sector accounting and auditing standards.
Applicants must be public school electors.
The applicant must not be a current employee or officer of the board or of any other district school board or school authority.
The applicant must not have a parent, child or spouse currently employed by the board.
Submission of Applications
:
Suitably qualified candidates interested in serving on the Audit Committee are invited to submit a letter of interest and resume with the names of three professional references by March 23, 2022:
Christine Jones, Executive Secretary
Lakehead District School Board
2135 Sills Street
Thunder Bay, ON P7E 5T2
christine_jones@lakeheadschools.ca
Candidates who are short-listed may be requested to attend a private interview conducted by the Audit Committee's Selection Committee. For information about the Lakehead District School Board), please visit www.lakeheadschools.ca.