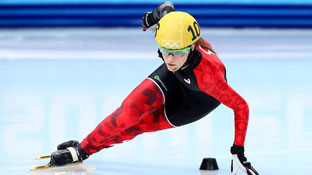 Bringing Out the Best Silverware
Dec 22, 2016
Students and staff at Hyde Park Public School will have a "silver" moment to meet a true Canadian Olympic hero on Friday, December 23. Jessica Hewitt, Olympic speed skater will be visiting Hyde Park school with her Silver medal from the 2014 Sochi Games.
"We are very excited to welcome Jessica as she speaks to our students about the importance of following and achieving their dreams," says Shannon Jessiman-MacArthur, Vice Principal, Hyde Park Public School. "Role models for young students are very important and she will be an incredible role model for our students."
Jessica Hewitt Biography
Jessica Hewitt has been competing on the World Cup circuit since the 2008-09 season and has been a valued member of the 3000m relay team ever since. Although she has yet to win her first individual World Cup medal, she has earned 10 in the relay. She also has three world championship relay medals from 2009, 2011 and 2013.
Hewitt competed at her first Olympic Winter Games at Sochi 2014 after coming up short during the selection trials for Vancouver 2010. In the summer after those Games, she moved to Montreal and became more of a fulltime athlete. She became more consistent in her training and gained more racing experience.
Hewitt has been a steady competitor in domestic events. She finished third overall at the 2013 Canadian Open Championships, matching her result from 2011. She had her best finish at the event in 2010 when she placed second overall.