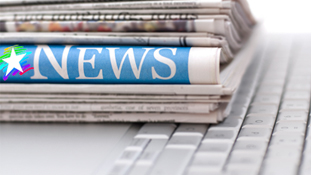 Churchill Students Building Community
Jan 24, 2018
Construction students at Sir Winston Churchill Collegiate and Vocational Institute are working hard to build a better community. The students decided to make this, the final year of the school, a year of giving back to the community. The latest community project undertaken by the students is the construction of 12 Infection Control Caddies (sanitizer stations) for long term care facilities operated by St. Joseph's Care Group.
"The students have been using their skills combined with a sense of civic duty to make things better in our community," John Delorey, Construction Technology teacher and Chair of Technology at Sir Winston Churchill Collegiate and Vocational Institute. "They worked productively through their class time to complete these caddies following all health and safety protocols to create the dozen caddies for our customer, St. Joseph's Care Group."
Planning for the sanitizer caddies began in November for completion for the January Flu Season. Students worked with blueprints and exact measurements to ensure accessibility for everyone. The students built the caddies on a 5.5" foot base with trimming and foldable panels. In addition, signage was added to raise awareness and to alert visitors of the building of any potential outbreak during flu seasons.
"The process from beginning to end, allowed the students to learn about communication with the customers and adjustments to any additions or parts the customer may have changed," says Delorey. "Students also used a variety of tools within the shop and had to work on their communication skills to ensure that deadlines were met."
This past Fall, the Construction students worked with Edgewater Park Public School to create an outdoor little free library. The students from both schools designed, built and installed the little free library to promote and improve literacy in our community.