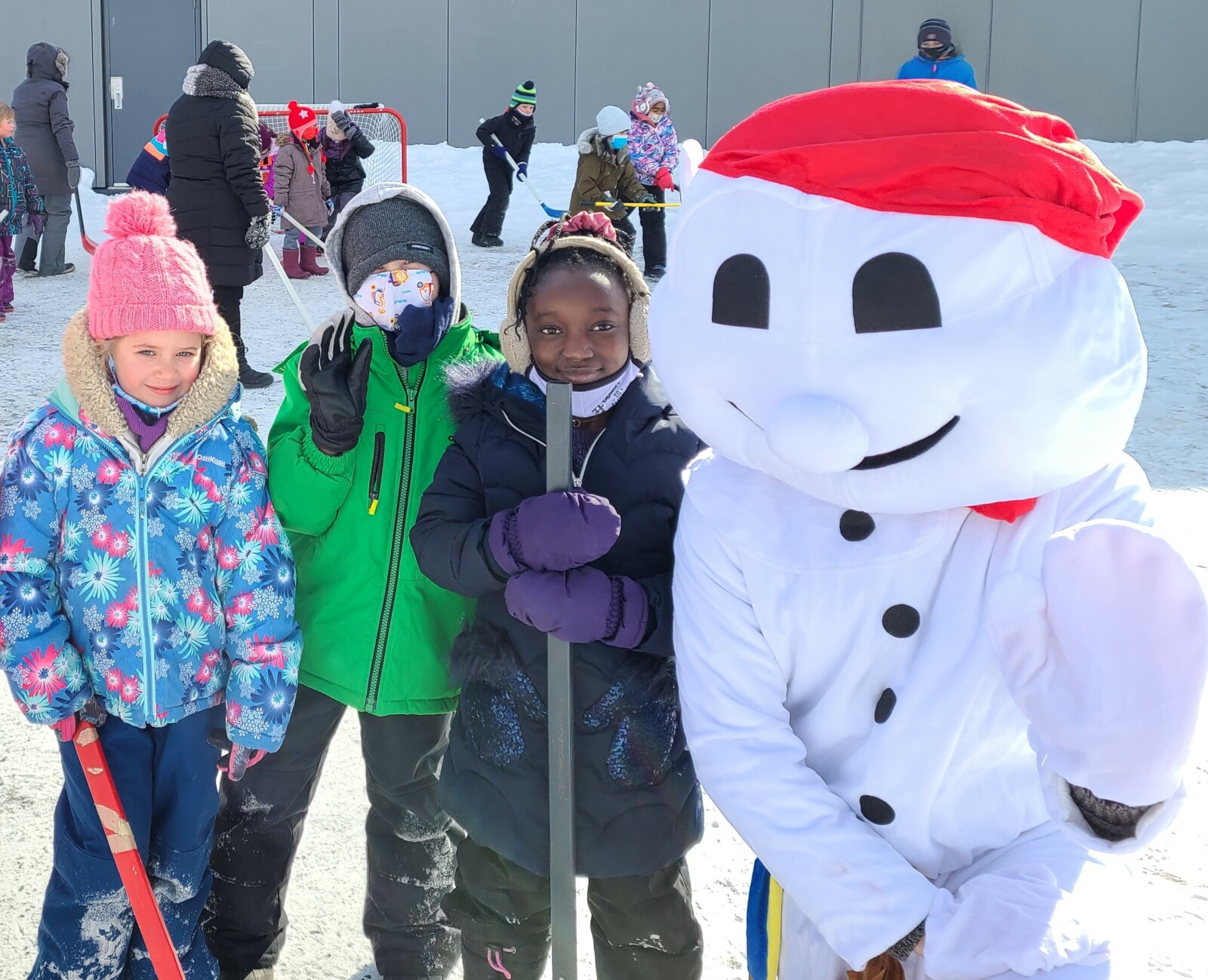 Ecole Gron Morgan Public School brings in Francophone culture with Carnaval d'hiver
Mar 14, 2022
On Friday, March 11, one of the biggest elementary French Immersion schools in the city, École Gron Morgan Public School, brought Francophone culture to its school yard with the Carnaval d'hiver (winter carnival). The Carnaval d'hiver is a renown French-Canadian tradition that began in the city of Québec in 1894 and is now celebrated annually in various parts of the country.
École Gron Morgan Public School filled its school yard with activity centres including snow sculpting, curling, hockey, obstacle courses, and a sugar shack staffed with members of Club culturel francophone de Thunder Bay. The experts working the sugar shack cooked la tire sur la neige (French-Canadian maple taffy) onsite and showed the students the process of pouring the cooked maple syrup onto fresh snow to cool it and rolling it onto a wooden stick to enjoy.
The French Immersion Grade 8 students had a leading part in orchestrating the day's events. They selected the entertainment, managed the activity centres, and helped their younger peers navigate the festival throughout the day. The morning was dedicated to the primary and junior grades, and Grade 3 student Sophia McPhail identified the snow sculpture centre as her favourite spot of the day. "I'm just looking around and I see everybody having fun and there's music going, so I think this is going to be fun," said the French Immersion student.
The celebration was a staff-led initiative and was broadened to also incorporate elements of Indigenous culture. Whitney Lundstrom teaches Grade 2 French Immersion and was among the staff who planned the day-long event. "We're a dual track [French Immersion] school, so it's important for us to embed la culture française into what we do in everyday things. We also had Marcel Bananish come to do a smudge to open our Carnaval d'hiver and he told some beautiful Indigenous stories," said Lundstrom. Local Indigenous knowledge keeper Marcel Bananish is the cultural resource coordinator at the Thunder Bay Indigenous Friendship Centre and a familiar face at Lakehead Public Schools events.
As per tradition, the carnival's official emblem, the Bonhomme Carnaval, made the scene and delivered the charisma and dynamism children expect from a mascot. The snowman-inspired character was first introduced at the Québec Winter Carnival in 1955 to spark joy in the city after a long winter. The costume is now widely recognized in Canada with its telltale red cap and colourful sash. The sash, with its fine arrow design, is an important piece of French-Canadian and Métis cultural heritages, with French and Indigenous finger-weaving techniques amalgamated to produce the symbolic knotted belt widely recognized today.