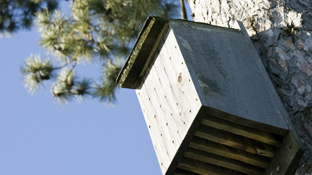 Kakabeka and Churchill Step Up to the Plate for Bats
Oct 6, 2016
Bats are a hot topic at this time of the year whether it is Halloween or the MLB Playoffs! The Grade 6/7 class from Kakabeka Falls District Public School will be working closely with the Grade 11/12 Construction Technology at Sir Winston Churchill Collegiate and Vocational Institute to help out the local bat population by building bat houses.
"The students have been learning about the classification of species and ecosystems in science and the importance of bats to our ecosystem," says Derek Kochan, Grade 6/7 Teacher at Kakabeka Falls District Public School. "As part of this unit, the students also learned about the fungus that is devastating the bat population across the world and thought this project would provide a safe place for them to hibernate."
Bats are hard at work all around the world each night – eating thousands of insects, pollinating flowers, and spreading seeds that grow new plants and trees. Bats are at risk right now from White-nose syndrome (WNS). This fungus grows on the exposed skin of bats as they hibernate during the winter in caves and mines. The cool temperatures of these hibernating sites allows the fungus to grow and spread throughout the site and on the bats themselves. The disease shows up as a fuzzy white substance on their ears, wings and muzzles. In the end, the bat ends up dying.
"This project is also an excellent opportunity for the elementary students to work in a secondary school shop with secondary students and teachers," says John Delorey, Sir Winston Churchill Collegiate and Vocational Institute Construction Technology teacher. "Students at Churchill are extremely excited to showcase their skills, health and safety knowledge and hands on abilities in a positive and helping way."
Together with the Churchill students, the Kakabeka students chose a design for a bat house. The Churchill students cut out the pieces for the bat houses and will help their elementary counterparts assemble the houses. Once the houses are complete, they will be brought back to Kakabeka Falls District Public School where the 6/7 where the students will paint their bat houses.