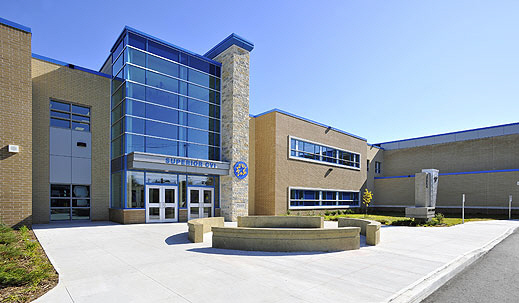 Superior CVI IB Programme Generates Major Post-Secondary Success
Dec 10, 2020
A group of five Superior Collegiate and Vocational Institute IB Programme graduates of 2020 have won a prestigious award, the Digital Inclusion Challenge 2020. The challenge was open to technology leaders worldwide, welcoming an array of digital solutions relating to the United Nations Sustainable Development Goal #4: Quality Education.
The former high school students, now attending McMaster University, University of Waterloo, University of Toronto, and Queen's University, had a limit of 10 days to conceptualize, design and develop their project. The team, called Superior Innovations, created the award-winning product Face to Face, a low-bandwidth video conferencing software created to improve virtual access to mental health services in remote northern communities.
The group is now being pursued by universities and industry partners to advance the project. All five students attended Superior CVI's International Baccalaureate Programme (IB Programme) and are now advancing academically at an accelerated speed among their pupils in their respective top-ranking universities.
The IB Programme is offered in over 100 countries and designed for students who are looking for a challenge as they enter high school and an influential diploma as they graduate. The IB Programme curriculum consists of six subjects: Studies in Language and Literature, Language Acquisition, Individuals and Societies, Sciences, Mathematics, and the Arts. The IB Programme also employs three core elements proven to broaden students' understandings and encourages tactical learning and skill development: 1. Theory of knowledge; 2. The extended essay; 3. Creativity, activity, and service.
Upon graduation, the IB Diploma meets the highest standards required by any university in the world and graduates place themselves at an advantage as they enter university as a result of accustomation to the substantial demands of university. The IB Programme is open to all students in the world, regardless of elementary school. Lakehead Public Schools is proud to make the IB Programme available for its students.
Congratulations to the five Superior CVI IB Programme graduates:
-Alexander Harris, attending McMaster University
-Harasees Singh, attending McMaster University
-Fuyang Deng, attending University of Waterloo
-Euan Pound, attending University of Toronto
-Amir-Ali Golrokhian-Sani, attending Queen's University
The group's submission can be viewed here https://youtu.be/8lNgMEG49rk.
The Digital Inclusion Challenge details can be found here The Challenge | Digital Inclusion Challenge.