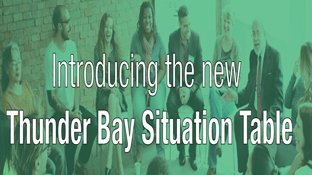 Thunder Bay Situation Table launched to help vulnerable individuals
Nov 8, 2017
Lakehead Public Schools and partners have come together to announce the launch of the Thunder Bay Situation Table, a community-driven initiative to help vulnerable individuals in the community.
The Situation Table brings together more than 30 representatives from a variety of sectors – including mental health, addiction, justice, social services and education – to help those at acutely-elevated risk of imminent harm or victimization. This diverse table of service providers helps prevent negative outcomes from occurring by providing individuals at risk of criminalization, victimization and/or harm with rapid, wraparound intervention that is short-term and time limited.
Referrals are brought to the Situation Table when an agency has exhausted all its resources and those available through existing community collaboration. Bringing together different sectors promotes collaboration and creates greater efficiencies of service.
Several situations have already been referred to the Situation Table for intervention. Cases are referred to the Situation Table in a way that doesn't publicly identity an individual. The Situation Table then coordinates action plans specifically for the individual in need of support, as no two situations are alike.
The Thunder Bay Situation Table is supported by the Provincial Human Services and Justice Coordinating Committee, with funding provided by the Northern Ontario Heritage Fund Corporation, Ontario's Ministry of Community Safety and Correctional Services, and partner organizations.
For more information on the Thunder Bay Situation Table, visit the CMHA Thunder Bay website, or contact Mariah Maddock, Chair, Thunder Bay Situation Table at mmaddock@cmha-tb.on.ca.