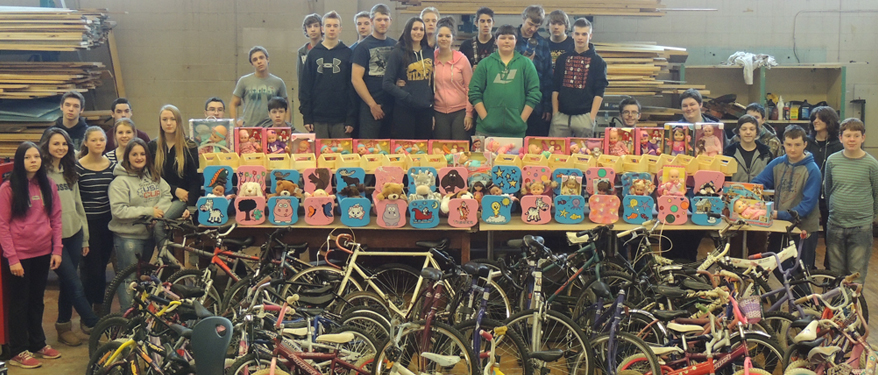 Tiger Holiday Spirit is Strong!
Dec 12, 2014
The fifth annual Technology Department Toy Build and Drive is taking place at Westgate Collegiate and Vocational Institute this week with a tradition of building, refurbishing and gathering toys for a donation to the Christmas Cheer campaign. While the projects taken on by the students are diverse and varied, they are all focused on making the holiday season more festive for the intended recipients.
The Grade 10, 11 and 12 Construction Technology Classes have built doll cradles and tool-boxes for donation to Christmas Cheer.
"The students designed, built and finished these items and the final products are examples of fine craftsmanship and generosity," says Thomas Charlton, Teacher. "Westgate staff donate the dolls for the cradles to complete the gift package."
Teacher Robert Dasey and his Transportation Technology and Design Technology classes have refurbished bicycles originally donated by Bicycles for Humanity. The class also painted wooden toys for the donation.
"The bikes we receive are all in need of some maintenance and repair, a little paint and a lot of TLC," says Dasey. "My students really enjoy working on the individual bikes, especially when they think of the children and youth who will receive them."
Representatives from the Christmas Cheer campaign visited Westgate Collegiate and Vocational Institute on Friday, December 12, 2014 at 1:00 pm. to receive the items so skillfully built and refurbished.